Hotrod® HHP Heating Cartridges are Used for Temperature up to 1,000°C
Press Release Summary: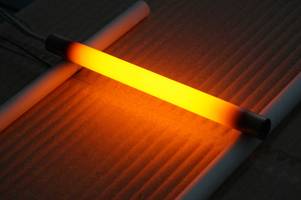 Hotrod® HHP Heating Cartridges are available in 12.5 mm, 16 mm and 20 mm diameters and are suitable for thermodynamic applications. These units come with housing casings made from the alloy Incoloy that is used in aerospace applications. The Icoloy is formed by the controlled composition of carbon, aluminum, titanium, silicon and manganese.
---
Original Press Release:
The Thousand-Degree Milestone in Sight
Hotset to expand its portfolio with new high-temperature heating cartridges
Under the umbrella of their hotrod® product series, the thermodynamics specialist hotset offers a growing selection of rigid and flexible heating cartridges for use in machines, systems and apparatus engineering. In the middle of the previous year, the German company presented the smallest electrical heating cartridge on the market, the hotrod® HHP 1/8"; now they are to present the next innovation in this field: A high-temperature heating cartridge for thermodynamic applications up to the 1,000-degree limit.
Achieving an operating temperature of over 750°C using rod-shaped heating cartridges with a housing diameter of often only a few millimeters is viewed as a critical milestone. Only a few manufacturers are currently able to produce such heating cartridges, which are increasingly required for applications in fuel cell construction, in battery technology, in aviation or also in factory automation and casting technology. The development engineers at the German thermodynamic specialist hotset therefore took on this challenge a few months ago, and are now able to present the new heating cartridge hotrod® HHP for application temperatures of up to 1,000°C. As a result, product developers and designers in research and industry can receive a new, innovative heating element for the high-temperature applications in which conventional heating cartridges reach their limits.
Sleeve material as the success factor
A series of special factors from various technical fields have to be considered for the realization of high-performance heating cartridges for modern high-temperature applications. "An absolutely decisive quality aspect is the thermal durability of the sleeve material on our new hotrod® HHP," says hotset Managing Director Ralf Schwarzkopf. Here it is necessary to know that most sleeve casings on today's standard heating cartridges permitting an operating temperature up to approximately 750°C are made from stainless steel in quality 1.4541 (X6CrNiTi18-10). However, this alloy has proven to be insufficiently corrosion resistant for the housing casings on high-temperature heating cartridges. For the new hotrod® HHP, the development team from hotset therefore selected a high-performance material from their treasure trove of stainless steel materials: "We settled on an austenitic, highly heat-resistant solid solution alloy made from Incoloy, a material also used in aerospace technology. The controlled composition of carbon, aluminum, titanium, silicon and manganese guarantees significantly better service lives than all other steel materials. Furthermore, we have already gained excellent long-life experiences using various Incoloy alloys, as we have used them for a long time for our hotrod® LHT cutting knife heating cartridges," says the company boss Ralf Schwarzkopf.
Thermocouples made from tried and tested material
The new hotrod® HHP can also be supplied with an integrated thermocouple, depending on the individual application case. The material NiCr-Ni has proven to be a suitable high-temperature material for this purpose. The new hotrod® HHP is currently only available in three diameters: 12.5 mm, 16 mm and 20 mm. Further sizes with various sleeve diameters are already in preparation.
With this new high-temperature solution, hotset is expanding its heating element product range in the upper performance range, and is simultaneously providing an innovative solution for extreme thermodynamic applications in many key technological fields, for example, fuel cell technology. In all this, however, the development engineers at the company emphasize the high level of significance of a systematic approach, in particular for the realization of reliable high-temperature applications. A high-tech solution such as the new hotrod® HHP should always be viewed as a component of an overall solution including sensor, regulation and control technologies. "In particular applications in this temperature range are designed to cope with extremes, and demand a specific and efficient control system - amongst other things also to achieve long service lives. Even if a heating cartridge has essentially proven its suitability for maximum temperatures, it is recommendable to validate this suitability in each specific customer application case. This method also corresponds to the systematic approach of our corporate philosophy," says the company boss Ralf Schwarzkopf.
Heating cartridges for all cases
Currently, the manufacturer hotset provides many different heating cartridges in numerous performance classes, variations and dimensions with VDE, UL and CSA certification. Heating elements from the construction series HHP and LHT are used today in injection molding, heating channel and laboratory technology and also in the packaging, textile and paper industry. Besides the new 1,000-degree high-temperature heating cartridge hotrod® HHP, the hotrod® HHP 1/8" (3.1mm) presented in 2017 is also one of the technological highlights of the current product range. With its diameter the size of a matchstick head, it is probably the smallest electrical heating cartridge on the global market. It was developed for installation into compact devices for the target-orientated temperature control of minimal quantities of adhesive, lubricants or ink.
Manufacturer:
Hotset GmbH
Hueckstraße 16
58511 Lüdenscheid / Germany
Telephone: +49/ 2351/ 4302-0
Fax: +49/ 2351/ 4302-25
Internet: www.hotset.com
Email: info@hotset.com
Contact This Company Download Spec Sheet
More from Test & Measurement