Hotplate supports operating temperatures up to 350°C.
Press Release Summary: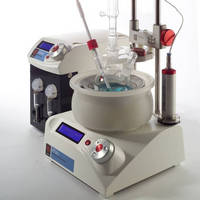 Atlas Hotter Hotplate, suited for use with Atlas automated synthesis system, features temperature control module that allows automated reactions to occur at temperatures up to 350°C. When used in combination with Atlas Lithium system, hotplate enables automated reactions in wide range of round bottom flasks and vials, using dry baths such as stacking dry baths, triple dry baths, and vial baths that remain cool to touch.
---
Original Press Release:

Syrris Pushes the Boundaries of Temperature Control



Atlas Hotter Hotplate enables hotter automated reactions at elevated pressures

Royston, UK - Leading chemistry automation product innovator, Syrris has launched the Atlas Hotter Hotplate which enables users to achieve operating temperatures up to 350°C. The Atlas Hotter Hotplate completes the portfolio of Atlas temperature control modules, allowing the already versatile Atlas automated synthesis system to reach even higher temperatures.

When used in combination with the Atlas Lithium system, the hotter hotplate enables automated reactions in a wide range of round bottom flasks and vials, using Dry Baths. Syrris' Stacking Dry Baths, Triple Dry Baths and Vial Baths all have excellent thermal transfer whilst the exterior remains cool to the touch.

The addition of overhead stirring modules to Atlas Lithium forms the Atlas Sodium conformation, which is ideal for more viscous reactions. The Atlas Sodium can also be supplemented for compatibility with high pressure reactions, up to 200 bar. This makes Atlas the ideal synthesis equipment for a wide range of chemistry from basic heating and cooling to protocols requiring hydrogenation and carbonylation.

For further information on the Atlas hotter hotplate, as well as the complete range of Atlas automated synthesis systems, including the Atlas Lithium, Sodium and dry bath, please visit www.syrris.com.

Syrris Limited

Established in 2001, Syrris Limited is one of the fastest growing science SMEs in the UK employing over 30 scientists and engineers at its facility in Royston (near Cambridge). Founders Mark Gilligan and Richard Gray come from a background of developing automation products for chemists at companies such as The Technology Partnership (TTP) and Mettler Toledo.

Syrris develops laboratory automation products for chemists such as the Atlas automated chemistry systems. Atlas can be configured into a wide range of different systems including Lithium and Sodium for round bottom flasks (magnetically and overhead stirred respectively) and Potassium for jacketed vessels. Other Atlas systems, designed for specific applications, including calorimetry, volumetric dosing, gravimetric dosing, pH, etc, are also available.

Syrris also specialise in flow reactors for R&D chemists, including FRX: a low cost flow chemistry system and Africa (Automated Flow Reaction Incubation and Control Apparatus): a modular system for library synthesis, aqueous work-up and reaction optimization that will ultimately reduce the time taken to develop, synthesize, screen and review a chemical entity, thus vastly speeding up the drug discovery process.

In recognition of its technological achievements, Syrris has been awarded a prestigious UK DTI SMART Exceptional Grant. Syrris has also won a significant DTi MNT (Micro and Nano Technology) award which has been used to establish a new subsidiary called The Dolomite Centre Ltd. This company is focused on design and fabrication of Microfluidic devices for a wide range of applications.

More from Controls & Controllers