Hot Water Pressure Washer helps maintain beverage facilities.
Press Release Summary: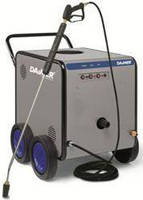 Completely powered and heated by electricity, Vapor-Flo® 8375 generates pressure levels of 1,700 psi and hot water temperatures up to 175°F without fumes. Commercial pressure washer features 25° stainless steel pressure nozzle with incorporated filter, and high-pressure heating elements that transform cold water to hot in 20 seconds. With hot and cold temperature settings, users can switch back and forth to match application. Casing is powder-coated steel for chip and corrosion resistance.
---
Original Press Release:

Hot Water Pressure Washer from Daimer Industries Debuted to Soda Beverage Facilities



Daimer Industries, Inc.®, the leading supplier of American manufactured cleaning machines, such as electric pressure washer systems, gas pressure washer machines and top-grade auto detailing systems, such as power-rich car wash equipment, and other products is pleased to launch the Vapor-Flo® 8375. The machine is a heated commercial pressure washer completely powered and heated by electricity, and is ideal for maintaining beverage facilities.



Cleaning beverage production warehouses http://www.daimer.com/food-industry-equipment-cleaning/  and production areas requires the use of machines that do not generate fumes, offer excellent cleaning power, and are safe for use within such facilities. The Vapor-Flo® 8375 offers fume-free and powerful cleaning, and generates pressure levels of 1700 psi and hot water temperatures of up to 175°F.



"With the fast-rated production environment within beverage facilities, strict quality standards, and safety regulations, the industrial cleaning methods have also improved. Rather than using the traditional cleaning techniques of scrubbing and wiping, cleaning professionals now seek machines that offer greater power and can clean expeditiously, says spokesperson for Daimer Industries, Inc.®, Matthew Baratta. "Daimer® is proud to launch a system that can easily clean conveyor belts in the food and beverage industries http://www.daimer.com/food-processing-conveyor-belt-cleaning/, production equipment, huge metal containers, large soda storage areas, and mostly all surfaces and tools used in the facilities. Top-notch features of the Vapor-Flo® 8375 hot water pressure washer help the machine offer excellent cleanliness and increased productivity, which results in high profitability for the company."



Daimer® is the internationally renowned brand of cleaning machines that come with top-grade technologies and features. Their equipment is optimum for routine maintenance or emergency commercial cleaning tasks, since Daimer®'s machines feature expert designs and engineering for maximum cleaning power, longevity, and reliability. Customers can select from the company's huge inventory of cleaning machines. The company exports its products to many thousands of customers, ranging from homeowners to the largest international and multi-national companies globally.



Removing dirt and spilled beverage deposits from floors, instruments, and other surfaces does not require much effort, assuming pressure washer machines especially designed to clean such settings are employed. The 100 percent electric Vapor-Flo® 8375 http://www.daimer.com/pressure-washers/vapor-flo-8375.htm features a 25° stainless steel pressure nozzle with an incorporated filter to target tough cleaning challenges within the facilities.



In addition, the equipment's hot and cold temperature settings makes it easy for users to switch back and forth to match the application. The power-enhanced commercial pressure washer includes high-pressure, heavy duty heating elements to transform cold water to hot in just 20 seconds.



Daimer®'s machines are the best when it comes to reliability and easy maintenance. The machines' Modular System Design™ (MDS™) and Self-Maintenance Engineering™ (SME™) technologies make them extraordinarily user friendly. The technologies allow the company's customers to replace a part easily, whenever required, without any professional support no matter where they are located worldwide.



Daimer® machines are extremely durable too. The casing of the Vapor-Flo® 8375 all electric pressure washer is powder-coated steel, which is chip and corrosion resistant. An extra feature of the solidly built industrial pressure washer housing is the top access to the water tank.



The cleaning power of the top-rated hot water pressure washer can be enhanced further with the addition of chemicals via the machine's siphon type standard/foam lance upstream chemical injection. Although chemicals are rarely needed with the machine, some users prefer to use a chemical as part of the cleaning process.



Daimer®'s high-quality pressure washer equipment comes in a variety of power configurations for use within various countries. The Vapor-Flo® 8375, which is one of the very best pressure washer systems offering 100% electric operation, comes standard at 220V-240V, three phase, 60Hz or 440V, three phase 60 Hz power. Optional power includes 220V-240V, three phase and 50Hz / 440V, three phase 50 Hz. 400V and 480V are also available.



For Additional Information:

Gather more knowledge about the Vapor-Flo® 8375 pressure washer's functionality by visiting the company's official website or call Matthew Baratta at (888) 507-2220. The systems are exported to over 240 countries globally.



About Daimer Industries, Inc.®:

Daimer Industries, Inc.® is the most reputed brand of industrial and commercial cleaning machines www.daimer.com/, including gas pressure washer systems, electric pressure cleaners, multi-functional mobile car wash equipment, steam vacuuming systems, gum removers, hard surface cleaning machines, car detailing systems, tile and grout cleaning machines, and many others for a wide range of cleaning applications. The machines, through their exclusive features and technologies, reduce the cleaning time and increase productivity.

More from Electrical Equipment & Systems