Hot Trap extends pump maintenance intervals.
Press Release Summary: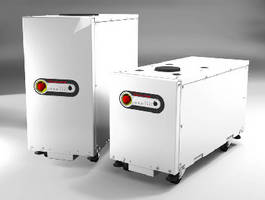 Designed to thermally decompose liquid diethyl zinc used in depositing some transparent conductive oxide films in thin film solar manufacturing, Hot Trap extends pump maintenance intervals from 1 week up to 6 months. Gases leaving process chamber pass through hot trap before entering vacuum pump. Heated to temperature that optimizes DEZ decomposition, trap's cartridges only require replacement on monthly basis, and can be cleaned and reused.
---
Original Press Release:

Edwards Addresses Pumping Challenges Involved in Depositing TCO Films for Solar Manufacturing



Two-pronged solution extends pump maintenance intervals from a week to up to six months, lowering cost of ownership and increasing productivity

CRAWLEY, WEST SUSSEX, UK. - Edwards, a leading global supplier of vacuum and abatement equipment and services, today introduced a patented hot trap designed to thermally decompose the liquid diethyl zinc (DEZ) used in depositing some transparent conductive oxide (TCO) films in thin film solar manufacturing. If unreacted DEZ enters the vacuum pumps during the deposition process, it decomposes, coating pump surfaces and significantly degrading pump operating lifetimes. Edwards' new hot trap significantly extends maintenance cycles and offers the lowest cost of ownership (CoO) solution for this problem.

TCO films are used in manufacturing large-scale thin film solar cells where they provide a transparent electrical contact that does not block sunlight from reaching the active area of the photovoltaic device. While such films have traditionally been made of indium tin oxide and deposited with a plasma vapor deposition (PVD) process, solar manufacturers have recently been transitioning to a zinc oxide film deposited by a CVD process, which uses DEZ as a precursor. Zinc oxide-based TCO films deliver a surface topology that improves the light capturing process.

"Part of the challenge in dealing with DEZ, is that it is thermally unstable. Any unreacted DEZ that enters the process pumps will decompose and plate out metal or metal oxides on pump surfaces, significantly degrading pump lifetimes," said Dr. Allister Watson, product manager for Edwards' FPD drypumps. "In fact, there have been some cases where pumps have failed after less than a week in production. We took a two-pronged approach to develop a solution that offers the lowest possible cost of ownership. The first prong is our new patented heat trap, which is designed to prevent DEZ from entering the vacuum pump. The second is the pump itself, our iXH harsh process pump, which has a very low internal operating temperature. This minimizes the possibility of thermal decomposition should any DEZ enter the pump."

Gases leaving the process chamber pass through the Edwards hot trap before entering the vacuum pump. The gases flow through the trap's replaceable cartridges, which are heated to a temperature that optimizes DEZ decomposition. The trap incorporates a carefully designed gas path that provides sufficient time for decomposition without restricting flow. Cartridges only require replacement on a monthly basis, and can be easily cleaned and reused, helping to lower the cost of this solution. The hot trap can extend pump maintenance intervals up to six months, a significant improvement over the weekly intervals required when it is not used.

The iXH Pump

Edwards' iXH harsh process dry pumps have been optimized for photovoltaic device manufacturing processes. They are designed to handle the high powder loads, high flows of corrosive cleaning gases and large hydrogen flows associated with thin film silicon deposition processes. The iXH also offers a range of operating temperatures that can be tuned to specific process requirements. This makes it ideal for CVD processes depositing TCO films using a DEZ precursor, since the pump can be operated at a low temperature to minimize DEZ decomposition within the pump. In addition, the iXH is up to 40 percent more energy efficient than previous generation pumps and is capable of running at greatly reduced power during idle modes, further lowering the cost of ownership of this solution.

For more information about Edwards products please visit www.edwardsvacuum.com.

About Edwards

Edwards is a leading global technology and environmental business supplying integrated vacuum and exhaust management solutions to manufacturers of semiconductors, flat panel displays, LEDs and solar cells, as well as vacuum technology for industrial, scientific, process and R&D applications. The company employs approximately 3,000 people worldwide in the design, manufacture and support of its industry leading products. Every day, Edwards' energy efficient, oil-free vacuum pumps reduce process energy consumption, while its abatement systems remove harmful greenhouse gases from process exhaust, making Edwards one of few companies that can proudly claim a negative net carbon footprint*. For more information, please visit www.edwardsvacuum.com.
The Edwards name and logo are registered trademarks of Edwards Limited.
* Greenhouse Gas Protocol - Scope 3 Indirect Emissions.

More from Software