Hot-Swap Data Storage System offers 720 TB, SAS3 12 Gbps capacity.
Press Release Summary: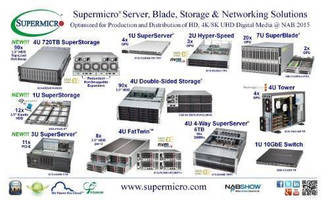 With top-load architecture that facilitates servicing, SC946ED-R3KJBOD SuperStorage platform consists of 4U JBOD storage chassis that supports up to 90 hot-swappable 3.5 in., 8 TB HDDs to provide 720 TB of SAS3, 12 Gbps performance. Dual hot-swap expander modules, featuring 4x Mini-SAS HD ports, maximize throughput and failover redundancy. Other features include tool-less design and redundant 1,000 W (3+1) Titanium Level 96% efficient digital power supplies.
---
Original Press Release:

®Supermicro® Debuts New 720TB 4U 90x 3.5" Top-Load Hot-Swap, SAS3 12Gb/s HDD SuperStorage JBOD Platform @ NAB Show 2015



LAS VEGAS – Super Micro Computer, Inc. (NASDAQ: SMCI), a global leader in high-performance, high-efficiency server, storage technology, and green computing debuts its new extreme density 4U 90x hot-swap bay SuperStorage platform alongside a wide range of high performance server, storage and networking solutions for the Broadcast Media Industry this week at NAB (National Association of Broadcasters) Show inLas Vegas, Nevada. The new 4U JBOD storage chassis supports up to 90x 3.5" 8TB HDDs for 720TB of SAS3, 12Gb/s performance in an easily serviceable top-load hot-swap architecture. Dual hot-swap expander modules featuring 4x Mini-SAS HD ports maximize throughput and failover redundancy for media streaming, nearline and archive storage applications. With 4K 60p Ultra High-Definition hitting mainstream and 8K 120p UHD on the horizon, all aspects of broadcast media production, from capture, editing, and CG/VFX, to encoding/transcoding, streaming and archiving will drive demand for the most extreme levels of compute, storage and network performance.



"Supermicro Green Computing solutions address the most extreme digital workload challenges facing the Broadcast industry with maximum performance, density, and energy efficiency," said Charles Liang, President and CEO of Supermicro. "Solutions such as our new 4U 90 top-load hot-swap 3.5" HDD SuperStorage or 1U 12x 3.5" direct attached 10GbE storage are unrivaled in density, performance and scalability for uncompressed media. And our 1U 4x GPU systems deliver the raw compute power for visual effects, rendering and transcoding. As the entertainment industry shifts to UHD media, Supermicro has exactly the best compute, storage, and network solutions available for studios to achieve lowest TCO through optimum performance per watt, per square foot, per dollar."



Supermicro NAB Show 2015 highlights include Blackmagic DaVinci Resolve running on the BMD certified, GPU acceleratedSYS-7048GR-TR, and full range of server, blade, storage and networking solutions optimized for digital content creation, production, management, and distribution.



• NEW 4U 90x 3.5" Top-Load, Hot-Swap HDD/SSD SAS3 12Gb/s JBOD (SC946ED-R3KJBOD)  -- The tool-less design features dual hot-swappable expander modules, 4x Mini SAS HD ports per module, redundant 1000W (3+1) Titanium Level high-efficiency (96%) digital power supplies



• NEW 1U Kinetic SuperStorage (SSG-K1048-RT ), (Datasheet ) Optimized for Key/Value pair object storage -- 48TB capacity featuring 12x 3.5" top load drive bays populated with dual port Seagate Kinetic drives (5900 RPM), redundant dual 10GBase-T (4 ports), Layer-2 switching to integrated 4TB Ethernet attached drives, dedicated IPMI / I2C management port, 400W redundant SuperCompact short-depth Gold Level power supplies



• NEW 3U 11x-PCI-E SuperServer® (SYS-6048R-TXR) -- Dual Intel® Xeon® processor E5-2600 v3, up to 1TB Reg. ECC DDR4 up to 2133MHz in 16x DIMMs, 10 x PCI-E 3.0 (x8), 1x PCI-E 2.0 (x4 in x8), 2x GbE ports, 5x hot-swap 3.5" drives bays (default 5x SATA3 ports), 3x 5.25'' peripheral drive bays, 1x Slim DVD bay (optional), redundant 600W Platinum Level high-efficiency (95%) digital power supplies



• 4U 4-Way 96x DIMM SuperServer® (SYS-4048B-TRFT ) - Quad Intel® Xeon® processor E7-8800 v2 / E7-4800 v2 family (15-Core), up to 6TB DDR3 1600MHz ECC RDIMMs and LRDIMMs in 96x DIMM slots, up to 11x PCI-E 3.0 slots (4 x16, 7 x8). 2x 10Gb LAN, 1x Dedicated LAN for IPMI Remote Management, 24x 2.5" hot-swap SAS3/SATA3 HDD or SSD (selected RAID/HBA cards); 48x 2.5" hot-swap HDD/SSD optional, 1620W redundant (N+1) high-efficiency (94%+) Platinum Level digital power supplies



• 4U 90x 3.5" Hot-Swap HDD/SSDs in 45x bay Double-Sided Storage® (CSE-847DE16-R2K02JBOD ) -- Single Expander Board and Front/Rear Backplane Boards support SAS2 or SATA3 HDDs with 6Gb/s throughput, 8x Mini-SAS HD ports for Internal / External Cascading Expander Combination for high performance, high availability or high redundancy requirements, 1x IPMI port for Remote System Power on/off, wake-on-LAN and system monitoring, Support NTP for time synchronization & RTC battery backup, 2000W redundant (1+1) Platinum Level high-efficiency (95%) digital power supplies



• 1U 4x GPU SuperServer® (SYS-1028GQ-TR/-TRT) -- supports 4x GPU accelerators with innovative non GPU-preheat architecture, dual Intel® Xeon® processor E5-2600 v3, up to 1TB DDR4 2133MHz ECC LRDIMM, 512GB ECC RDIMM in 16x DIMM slots, 2 hot-swap and 2 static 2.5" drive bays, and intelligent, cold redundant 2000W Titanium Level high-efficiency (96%) digital power supplies



• 4U/Tower 4+1 GPU (SYS-7048-GR-TR ) -- supports 4+1x GPU accelerators, NVIDIA GeForce SLI, dual Intel® Xeon® processor E5-2600 v3, up to 1TB ECC DDR4 2133MHz in16x DIMM slots, 8x 3.5" hot-swap, 3x fixed 5.25" and 1x fixed 3.5" drive bays, 4x heavy duty fans, 2x external exhaust fans, and 2x active heat sink with optimal fan speed control, redundant 2000W Titanium Level high efficiency (96%) digital power supply, passive GPU kit (MCP-320-74701-0N-KIT) and optional Thunderbolt 2.0 AOC



• 2U Hyper-Speed SuperServer® (SYS-6028UX-TR4 ) -- Supports 3x GPU accelerators, dual Intel® Xeon® processor E5-2600 v3, up to 1TB ECC, up to DDR4 2133MHz in 16 DIMM slots, 12 hot-swap 3.5" drive bays (SATA3 default, 12x SAS3 option; 4 NVMe option via AOC), 3 PCI-E 3.0 x16 slots (FH, 10.5" L), 3 PCI-E 3.0 x8 slots (1 in x16 FH 10.5" L, 1 LP, 1 Internal LP), 4 1GbE ports, and redundant 1000W Titanium Level (96%) digital power supplies



• 4U 4-Node, 8x 3.5" Hot-Swap HDD per U FatTwin™ (SYS-F628R3-RC0BPT+ ) -- 4x Nodes each supporting dual Intel® Xeon® processor E5-2600 v3, up to 1TB ECC DDR4 2133MHz in 16x DIMM slots, 1x PCI-E 3.0 x16 (LP), 1x PCI-E 3.0 x8 (Micro Low Profile), 2x 10GBase-T ports, built-in server management tool (IPMI 2.0, KVM/media over dedicated LAN port), 8x 3.5" hot-swap SAS3 or 6x SAS3 + 2x NVMe HDD bays (per U), 1280W redundant Platinum Level high-efficiency (95%) digital power supplies



• 7U SuperBlade® (SBI-7128RG-X /-F /-F2 ) -- Up to 120x GPU + 60x CPU per 42U Rack! Supports up to 2x K40M, K80, NVIDIA GRID™ K1/K2 GPU accelerators, dual Intel® Xeon® processor E5-2600 v3, up to 512GB ECC DDR4 2133MHz in 8 DIMM slots, 2xSATA DOM or 1x SSD; or up to 8x 2.5" SATA3 HDDs + 1x 2.5" SSD, onboard 10GbE (-X), single FDR IB port (-F), dual FDR IB port (-F2)



• 1U Top-of-Rack, Layer 3, 10GbE Switch (SSE-X3348T/-TR ) -- 48x 10GBase-T ports (RJ45) w/Energy Efficient Ethernet (IEEE 802.3az), 4x 40GbE ports (QSFP), 2x 1GbE ports (RJ45), Out-of-band RS-232 Management port



Visit Supermicro at NAB Show 2015, April 13-16 in the Las Vegas Convention Center, Lower South Hall, Booth SL15705. For more information on Supermicro's complete range of high performance, high-efficiency Server, Blade, Storage and Networking solutions, visit www.supermicro.com.



Follow Supermicro on Facebook and Twitter to receive their latest news and announcements.



About Super Micro Computer, Inc.

Supermicro® (NASDAQ: SMCI), the leading innovator in high-performance, high-efficiency server technology is a premier provider of advanced server Building Block Solutions® for Data Center, Cloud Computing, Enterprise IT, Hadoop/Big Data, HPC and Embedded Systems worldwide. Supermicro is committed to protecting the environment through its "We Keep IT Green®" initiative and provides customers with the most energy-efficient, environmentally-friendly solutions available on the market.



Supermicro, Building Block Solutions and We Keep IT Green are trademarks and/or registered trademarks of Super Micro Computer, Inc.



All other brands, names and trademarks are the property of their respective owners.



Web Site: http://www.supermicro.com

More from Sensors, Monitors & Transducers