Hot-Melt Tapes bond similar or dissimilar materials.
Press Release Summary: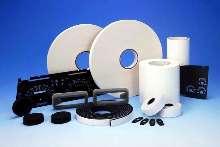 Series 9000 is comprised pressure-sensitive, solventless, double-coated or transfer tapes that bond to metals, most films and plastics, and range of rubber, sponge, and foam. Products are manufactured in master rolls of 54 and 60 in. usable by 250 linear yards, with slit sizes available. They have peel strength of 150 oz-in. and shear strength of +168 hours. Sample applications include gasketing, weatherstripping, sound/vibration damping, and cushioning.
---
Original Press Release:

Tyco Plastics & Adhesives Unveils New Product Line of Hot Melt Pressure-Sensitive Adhesive Tapes


Low-cost, high-performing tapes support a broad range of applications

PRINCETON, N.J. (Sept. 10, 2004) - Tyco Plastics & Adhesives, a Tyco International company (NYSE: TYC), extends its adhesive product offering by adding a new line of hot melt pressure-sensitive tapes. The hot melt products join Tyco Plastics & Adhesives' current product mix of solvent-based rubber, acrylic, urethane and silicone adhesives. Designed for bonding to a wide variety of foams, films and other materials for lamination and converting applications, the new 9000 Series provides good performance at a value price.

Manufactured by Tyco Adhesives, a business unit of Tyco Plastics & Adhesives, the 9000 Series is comprised of double-coated or transfer tapes that are excellent for bonding similar or dissimilar materials. The solventless tapes bond superbly to metals, most films and plastics, and a wide range of rubber, sponge and foam, making them a versatile product. The 9000 Series also offers excellent die cutting and conversion characteristics.

The product line is targeted for fabrication in automotive interior, medical device and general bonding applications. Sample applications of this line include gasketing, weatherstripping, sound/vibration damping and cushioning. The 9000 Series is offered in several constructions with different liner options, allowing the customer to select the right product for its intended use.

"The 9000 Series offers diverse bonding performance to support a broad range of applications," said Elizabeth Curran, marketing manager for the Specialty Tape Group (STG) of Tyco Adhesives. "It's so versatile that our customers can stock fewer general bonding performance tapes and still cover the range of bonding expectations they have by using our line. We offer a good product that delivers true value through essentials - good performance, processing ease and custom quality and service."

Products in the 9000 Series are manufactured in master rolls of 54 and 60 inches usable by 250 linear yards, with slit sizes available as well. The tapes have a peel strength rating of at least 150 oz/in and a shear strength rating of +168 hours.

For more information on the 9000 Series of pressure-sensitive tapes or to request a product sample, call (800) 248-7659 x6223 or e-mail stg@tycoadhesives.com.

Tyco Adhesives (www.tycoadhesives.com) is a global leader in the manufacture of adhesive and corrosion protection products, providing solutions to customers for more than 50 years. Tyco Adhesives is the world's largest producer of duct and cloth tapes. Its tape and adhesive products are used in a variety of markets, including medical, industrial, aerospace, automotive, packaging, HVAC, construction and retail. Tyco Plastics & Adhesives is a leading global manufacturer of plastic film, specialty tapes and adhesives, coated products, garment hangers and disposable serviceware. It is comprised of four business units: A&E Products Group, Ludlow Coated Products, Tyco Plastics and Tyco Adhesives. In 2003, Tyco Plastics & Adhesives generated $1.9 billion in revenue while employing more than 10,000 people worldwide.

Tyco International Ltd. is a global, diversified company that provides vital products and services to customers in five business segments: Fire & Security, Electronics, Healthcare, Engineered Products & Services, and Plastics & Adhesives. With 2003 revenue of $37 billion, Tyco employs 260,000 people worldwide. More information on Tyco can be found at www.tyco.com.

Jay Pomeroy
Tyco Plastics & Adhesives
(609) 720-5425
jpomeroy@tyco.com

More from Computer Hardware & Peripherals