Hot Cast Prepolymers from Chemline Deliver High Performance for the Toughest Applications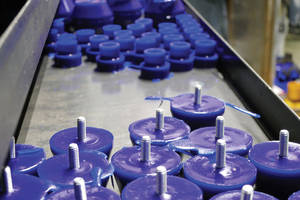 St. Louis, MO - Chemline, Inc. manufactures hot cast urethane prepolymers for use in the most rigorous applications where the highest performance is required. Processing these materials typically involves heated components and tooling, along with a hot post-cure to optimize properties. Custom formulations are available in a wide range of durometers - from 20 Shore A to 85 Shore D - that possess superior toughness, durability and load-bearing capability. Hot cast prepolymers can be tailored for ideal chemical, hydrolysis, abrasion, cut, tear and fatigue resistance, depending on the specific application.
Chemline's hot cast prepolymers are used extensively in markets including: mining, marine, industrial tires and wheels, metals manufacturing, oil and gas, heavy equipment, pulp and paper, transportation and industrial equipment markets.
Key features of Chemline's hot cast prepolymers include:
Excellent abrasion resistance
High load bearing capability
Cut, tear and fatigue resistance
Chemical and hydrolytic resistance
ABOUT CHEMLINE
Founded in 1997, Chemline is an industry leader in fast-set polyurethane and polyurea coatings. The company's 100% solids, spray-applied products are used by OEMs and applicators around the world as protective coatings for metal, wood, concrete, foam and other materials. Chemline operates a 170,000 sq. ft. plant at its headquarters in St. Louis, Missouri, with an additional manufacturing facility in Los Angeles, California. For more information, please visit www.chemline.net or call 314.664.2230.
Media Contacts
Company:
Megan Muccigrosso
Tel. 314.254.2722
Email: megan.muccigrosso@chemline.net
More from Packaging Products & Equipment