Hosokawa Alpine Implements New Zone Temp Control, HMI to Boost Production on Blown Film Lines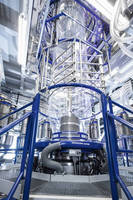 Machine builder utilizes Siemens hardware, software and communications platform on lines up to 11 layers of co-extrusion; achieving <1ºF of temp variation



Hosokawa Alpine American (Natick, Massachusetts) is a leading supplier of blown film extrusion systems to the North American plastics industry; with standard lines ranging from single-layer to 9-layer co-extrusion. The company recently rolled out its new 11-Layer X-Die line, featuring an advanced zone temperature control system that enables faster changes in recipe and data acquisition to allow on-the-fly adjustments for enhanced production performance. A recent installation of this system at a large multi-national Blown Film Company is already yielding trackable performance improvements at their plant.  



As Alpine's VP of Engineering Jay Ragusa observes, "We had a very successful machine design from the 1990's and it had performed extremely well, but we saw dramatic improvements in new controls and data transmission technology from our longtime partner Siemens together with their local distributor, Dittman Greer (Middletown, Connecticut), a specialist in electric temperature systems and machine controls."  Among these advancements, Ragusa notes, are a new zone temperature control system, as well as the Box PC with full automation and visualization software onboard running with WinCC.  



Alpine had a "light bulb" moment, as Ragusa explains.  "We quickly realized this new system would give us the ability to design a machine with a complete zone temperature control system and remote I/O, plus the necessary hardware and touchscreen HMI to give operators and production management an entirely new approach to in-process control and product quality monitoring".



The company conducted its due diligence, calling in various competitors for the business. Thorough testing in the Alpine lab pilot plant was conducted, with strong emphasis on component failure analysis, system fault detection and the robust qualities of the competing systems for 24/7 use in the harsh environment of the blown film industry.  



"Beyond those benchmarks of evaluation," Ragusa continues, "we were seeking a system with enhanced flexibility, so we could provide our customers a better way to change recipes in a quicker, more efficient manner, while maintaining a very high degree of product quality." 



After the completed testing and evaluation process in-house at Alpine, the decision was made to move forward with the Siemens system, comprising a new zone temperature control, Profinet communication platform, motors, drives, PLC and touchscreen HMI.  



As the new system and other improvements were implemented into the first machine built and test-run at Alpine, a documented higher yield was achieved, with a higher degree of control accuracy. Ragusa notes there is an additional benefit of real-time monitoring and adjustment of all machine conditions.  



This new machine included up to 120 separate temperature control zones. According to Ragusa typical systems allow for a 2º-3ºF variation in zone temperatures; with the new system that variation is reduced to less than 1ºF. 



Jay Ragusa also details other system improvements made by Alpine on the new machine. "The new industrial flat panel on the PC has a wider screen for easy viewability. Plus, our older system, while modular, had little remote I/O and the new system brings us that benefit, too. The auto-tune function, combined with the better CPU in the PLC, gives us a much stronger package of internal software in combination with hardware. Since we were making the transition within a Siemens protocol, no significant software conversion was required and all data feeds continue on Profinet." 



Data transmission overall has also improved, he notes, as the communication speeds are significantly faster, plus the open architecture of the system can convey all data to the other departments seamlessly. 



Two more advantages of the Siemens system include the plug-and-play remote I/O hardware and the open architecture of the control system. The quick- connect, plug-and-play remote I/O hardware reduces installation, commissioning and replacement time of the system hardware. The open architecture of the control system allows end-user adjustment of control parameters to suit each specific application and stores thousands of recipe data points. Alpine routinely customizes the front end of the controller HMI to facilitate easier customer training and a seamless transition from legacy systems for operators in use.   As Ragusa notes, "The field wiring savings alone are incredible, as our machines are fully tested in our facility, then dismantled and assembled onsite at the customer location." 



On the maintenance side, a customer can quickly determine component faults and either take corrective action or literally order a new component from the onboard controller, as the Siemens protocol offers internet connectivity. 



For more information on this story, please contact: 



HOSOKAWA ALPINE AMERICAN

5 Michigan Drive

Natick, MA 01760

Phone:  508-655-1123

www.halpine.com

Attention:  Jay Ragusa, VP of Engineering or Alana Carr, Marketing Coordinator



SIEMENS

Digital Factory

Factory Automation

5300 Triangle Parkway

Norcross, GA 30092

Phone:  770-871-3848

www.usa.siemens.com/drives

Attention: Hollie Davis or Alisa Coffey



Video of this system in action: https://youtu.be/FF_aWZCPlSg



About Siemens USA

Siemens Corporation is a U.S. subsidiary of Siemens AG, a global powerhouse focusing on the areas of electrification, automation and digitalization. One of the world's largest producers of energy-efficient, resource-saving technologies, Siemens is a leading supplier of systems for power generation and transmission as well as medical diagnosis. With approximately 348,000 employees in more than 190 countries, Siemens reported worldwide revenue of $86.2 billion in fiscal 2015. Siemens in the USA reported revenue of $22.4 billion, including $5.5 billion in exports, and employs approximately 50,000 people throughout all 50 states and Puerto Rico.



More from Paints & Coatings