Horton Announces U.S. Manufacture of Entire Electronic Viscous Fan Drive Line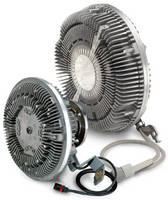 Made in the U.S.A. ensures fast delivery for U.S. customers

ROSEVILLE, Minn. - Horton is now manufacturing its entire line of electronic viscous products at its Britton, S.D., facility. This includes VMaster® Directly Controlled and Stratis® Viscous Drives. Formerly, the electronic viscous line was manufactured in Germany. This change provides customers in the United States with faster local delivery of product and faster turnaround on prototypes.

Horton has undertaken a multimillion dollar investment in its Britton, S.D., plant, with an additional 7,000 square feet for materials and 10,000 square feet for finished goods. Horton manufactures a full range of products for global markets in Britton, with the capacity to manufacture 600,000 fan drives per year. Overseas customers continue to be served by Horton's manufacturing facility in Germany.

"The expansion of our Britton facility helps to ensure that Horton fan drives are available for fast delivery to OEM and aftermarket customers," says Steve Wardleworth, vice president of manufacturing at Horton. "Buying products made in the United States is even more important than ever to many customers today. In addition to supporting U.S. businesses, buying fan drives made in the United States removes the risk of pricing fluctuation related to currency exchange rate variations."

For information, visit www.hortonww.com/USA or call +1 651.361.6400 or 1.800.621.1320

With 60 years of industry experience, commitment to service, reliability and innovation, Horton is a premium worldwide provider of fan drives, fans and suspension products. Horton's comprehensive research and development processes are driven by a dedication to exceed industry requirements today and in the future. The company has manufacturing plants in the United States and Germany, with licensed manufacturing facilities in Australia and the United Kingdom; offices in the United States, Canada, Mexico and Germany; and representatives in Brazil, Russia, South Korea, China and Australia. Horton products include VMaster® and Stratis® Viscous Fan Drives, VMaster Di and Stratis Di Viscous Fan Drives and Controllers, DM Advantage(TM) On/Off and Two-Speed Fan Drives, Arctis® Two-Speed Fan Drives, WindMaster® Revolution High-Efficiency/Hybrid-Flow Fans, WindMaster Fans, WindShift(TM) Modular Fans, Shogun(TM) Modular Fans, Electromagnetic On/Off Fan Drives, DriveMaster® Spring-Engaged Fan Drives, Klondike Series® Replacement Fan Clutches for the Kysor® K26RA as well as repair kits for Kysor's K26RA, K22RA and K22FA, PolarForce® Two-Speed Conversion Kits, DM Advantage Conversion Super Kits, Genuine Horton repair kits, remanufactured fan drives and Roller Bushing Suspension Products.

Horton, Inc.
2565 Walnut Street
Roseville, MN 55113
1.800.621.1320
+1 651.361.6400
info@hortonww.com
www.hortonww.com/USA

Kysor is a registered trademark of BorgWarner.

More from Electrical Equipment & Systems