Horizontal Profiler cuts aluminum aerospace components.
Press Release Summary: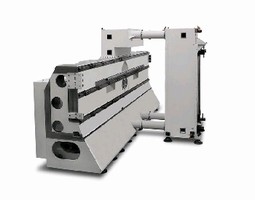 Offering simultaneous 5-axis contouring, HyperMach H4000 provides contained cutting of parts up to 2 x 4 m. Machine offers choice of 30,000 rpm 60 kW/80 hp HSK63A spindle or 20,000 rpm 85kW/115 hp HSK100A spindle. Water-cooled motors power table/pallet receiver at speeds up to 2,000 ipm. High-speed ball screws drive Y and Z axes, while spindle carrier rotates at 150°/sec in A and C axes. Model H4000 comes standard with 96 tool automatic tool changer, field-expandable to 190 tool capacity.
---
Original Press Release:

MAG Cincinnati Introduces Industry's Highest Output Horizontal 5-Axis Profiler for Aluminum Aerospace Components



New HyperMach H4000 features high-performance simultaneous 5-axis contouring,
2 x 4 meter part capacity, cell-ready design, and breakthrough ergonomics

May 2008 - MAG Cincinnati clears the table and collects all the chips in high-value aluminum machining, introducing industry's highest output 5-axis horizontal machining center for clean, contained cutting of parts up to 2 x 4 meters. Designed especially for high-throughput, precision machining of next-generation aircraft components, the new HyperMach H4000 adapts proven modular components from the company's advanced high-speed vertical profiler family. The H4000 effectively turns the profiler configuration on its side with a vertical X-axis moving table, full-portal open center for high-volume chip/fluid collection and conveying, and a fixed column providing Y axis and Z axis (slide) positioning of a contouring A and C axis spindle. Cutting operations are totally enclosed with chip fall-through to a high-volume conveyor, avoiding chip recutting and the need for a chip blow-off attendant. Cell-ready, the H4000 can be easily integrated/expanded for multiple machine processing using MAG Cincinnati CINCRON® cell modules.

The high-performance design features choice of 30,000 rpm 60 kW/80 hp HSK63A spindle or 20,000 rpm 85kW/115 hp HSK100A spindle. Water-cooled motors power the table/pallet receiver at speeds up to 50 m/min (2000 ipm). High-speed ball screws drive the Y and Z axes, while the spindle carrier rotates at 150 degrees/sec (25 rpm) in A and C axes. The H4000 comes standard with 96 tool automatic tool changer (HSK63A), field-expandable to 190 tool capacity.

The HyperMach H4000 will be introduced and demonstrated at IMTS 2008. A larger H6000 with 2 meter x 6 meter pallets is available and a titanium processing platform is currently in development.

"The H4000 addresses industry needs for leaner, faster, more automated production of large complex-geometry parts made to today's tighter tolerances," said Randy Von Moll, MAG Cincinnati platform manager for aluminum machining. "We designed it as a game-changer to give part producers a competitive edge. It lets them take advantage of two major shifts in aerospace manufacturing - the need for precision fits required for determinate assembly, and accelerated production schedules with shorter ordering/delivery cycles."

He stressed that the H4000 was engineered to the five parameters required for high-performance machining - high spindle rpm, high spindle power, high feed and toolpath rates, high acceleration and deceleration, and high accuracy. The last three require robust construction and outstanding dynamic response by the machine, he noted. The H4000's full-portal "closed-loop" construction maximizes stiffness and provides maximum consistent cutting performance at any position of the pallet and spindle, while eliminating thermal drift and periodic realignment between column and pallet table.

The five-point engineering allows the single spindle H4000 to out-produce older 3-spindle gantry vertical profilers, stressed Von Moll. Scale/encoder feedback on all five axes enables extreme accuracy beyond the capabilities of other horizontal machines currently on the market today. The powerful high-speed spindle delivers high metal removal rates to make fast work of aluminum plate or forgings. Near-mirror finishes virtually eliminate hand finishing, a critical cost and throughput factor.

Six months of focused "voice of the customer" research went into making the H4000 not only the most productive, but also the most ergonomic, and maintainable machine in its class, according to Von Moll. He cited these distinctive features and capabilities:

o Ergonomics/Design Flexibility - The H4000 is the only machine in its class that can be set up for pallet load from the right or left side with chip conveyor discharge configured in either direction, enabling best-fit to shop layout and work flow. Compact design allows a larger machining envelope with a smaller footprint than competitive machines. The Automatic Tool Changer & Tool Storage, valves and component controls are visible from the centrally located operator station and can be accessed while maintaining visual contact with the machine's HMI. The operator can check, load and exchange tools without walking around to the other side of the machine. Red/green "status" lights visible through a window indicate sub-system health. Flat floor installation reduces cost and installation time, avoids pits and multi-step foundations, allowing easy reconfiguration of the plant layout. CINCRON Cell Automation Modules allow near-infinite material handling and cell configurations for multi-machine processing and highest production efficiency.

o Maintainability - The direct drive dual rotary axes A/C head is powered by permanent magnet torque motors - no gears, belts or mechanical drive elements to wear or replace. Optimized for aluminum cutting, the contouring head is production proven and supported - the same design as on HyperMach verticals. Critical systems are located on the perimeter of the machine - ways & bearings, ball screws, scales, etc. - out of the chip environment. Systems can be accessed and serviced from the exterior of the machine. The H4000 is virtually free of hydraulics for reduced maintenance, noise and energy use. Distributed power design, using Siemens advanced 840D "Solutionline" hardware and software to connect drives by powered Ethernet, allows axis drives to be located close to their point of use, reducing the size and complexity of moving cable carriers to improve reliability. All servo motors, spindle, and rotary axes torque motors are water-cooled by a refrigeration chiller system for highest reliability and precision.

MAG Cincinnati turns the aerospace profiler concept on its side, creating a breakthrough horizontal profiler featuring 5-axis contouring, 2 m x 4 m pallet capacity, full-portal open-center construction, high-volume chip removal, and industry-best horizontal output. "Under the covers" photo shows the innovative machine structure for the new HyperMach H4000. See it fully dressed in machine guarding with totally enclosed cutting zone at IMTS, MAG Industrial Automation Systems booth A-8218.

About MAG Cincinnati
MAG Cincinnati, a company of MAG Industrial Automation Systems, designs, builds and integrates advanced manufacturing solutions for the global aerospace, heavy equipment, energy and general machining markets. The company's broad machine tool line includes automated composites processing equipment, profilers, routers, large horizontal and vertical machining centers including 5-axis, multi-tasking and cells.

About MAG Industrial Automation Systems
MAG Industrial Automation Systems is a group of leading machine tool and systems companies serving the durable-goods industry, worldwide, with a large portfolio of highly-recognized and well-respected brands. With manufacturing operations on five continents, MAG ranks as a leader in the global metalworking capital equipment market.

For more information about MAG Industrial Automation Systems or its companies, visit: mag ias.com

More from Fluid & Gas Flow Equipment