Horizontal Machining Centers provide polish-free surfaces.
Press Release Summary: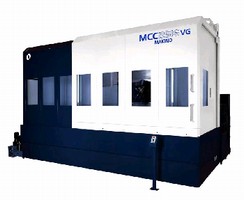 Featuring tilted spindle, MCC-VG Series provides 3-axis machining as well as slanted hole machining. Automatic non-contact tool measuring device accurately measures and corrects position of tool tip. Compensation for spindle thermal distortion is automatically applied in 3 dimensions as machining proceeds. Providing 3,000 x 1,600 mm working area, machines offer max table load of 15 tons, spindles speed of 12,000 min-1, and through coolant spindle technology.
---
Original Press Release:

Makino's New MCC-VG Series Horizontal Machining Centers



Allow for shorter lead times and polish-free surfaces

AUBURN HILLS, MI - April 2006 - Makino's Variable Geometry (VG) equipment revolutionizes the machining of large dies and molds. The MCC-VG Series of horizontal machining centers provide a totally new concept of simultaneous three-axis machining and slanted hole machining, accomplished by tilting the spindle at an optimum angle for outstanding access to the machining point.

The tilted spindle on the MCC-VG Series machines allows for the use of shorter tools to achieve high-efficiency machining. This prevents the spindle and the tool from colliding with the table.

Deep mold cavities and cooling holes can be machined in the same workpiece setup.

Slanted holes can also be machined continuously at various angles without changing the setup.

The VG comes with Makino's patented through coolant spindle technology, which is unique in the marketplace on an angled-head machine. This technology enhances the speed and accuracy of drilling angled holes, as opposed to traditional fixed head machines, due to the natural flushing out of the chips.

Polish-free machining of large dies and molds
An automatic non-contact tool measuring device (retract type) accurately measures and corrects the position of the tool tip. Even when machining at different spindle angles, level differences at the seams of finished surfaces are minimized.

The position of the tool tip is measured with high accuracy under actual machining conditions, and compensation for spindle thermal distortion is automatically applied in three dimensions as machining proceeds. This function works to minimize level difference in finished surfaces and its result is that step between each machined surface is within 3um.

Makino's patent-pending tool tip position calculation function is used when drilling slanted holes. It measures a calibration value in advance for every tilt angle of the spindle. Those values are used to correct the tool tip position automatically after the spindle has been indexed. This eliminates the need to measure the tool length each time after indexing the spindle.

Spindle delivers exceptionally high efficiency and accuracy
The MCC-VG has a spindle speed of 12,000 min-1. Spindle taper hole is 7/24 taper No. 50, and the spindle drive motor is 18.5/11kW (40% ED/cont.). The high-speed and high-rigidity spindle is supported by cylindrical roller bearings having an inner diameter of 100 mm, enabling it to execute a wide range of jobs from roughing to finish machining.

Makino's unique spindle core cooling system is used to cool the rotating spindle directly from the inside. This minimizes thermal distortion to ensure that the position of the spindle and face does not vary, even during long hours of machining.

This spindle core cooling system circulates a temperature-controlled cooling oil through the center of the rotating spindle to cool it directly from the inside. The temperatures of the spindle and the jacket are constantly coordinated so that the bearings can be optimally preloaded in all speed ranges.

Other features enhance speed, accuracy
The Makino MCC-VG Series delivers high acceleration even with a maximum table load of 15 tons. The table has a 3,000 x 1,600 mm working area. The Y- and Z-axes both adopt two ball screws and two drive motors, while the X-axis features two ball screws and four drive motors.

This ball screw and motor alignment generates exceptionally high acceleration on the X-axis, which can have huge impact in reducing cycle times and achieving fantastic finishes. Combined with the VG head, this technology also allows you to achieve fine finishes in deep cavity corners and detailed features with detail similar to smaller precision machines.

Despite being large in size, these machines can also agilely machine small, intricate shapes quickly without slowing down. The result is substantially shorter machining times.

X-axis travel is 2,500 mm on the MCC2516VG, and 3,000 mm for the MCC3016VG. Y-axis travel is 1,600 mm on both the MCC2516VG and the MCC3016VG. Z-axis travel is 1,300 mm on both the MCC2516VG and the MCC3016VG. Rapid traverse and cutting feedrates (X/Y/Z-axis) are 16,000 mm/min. There is a 30-tool automatic tool changer, with a maximum tool weight of 20 kg and a maximum tool length of 550 mm. Maximum tool diameter is 125 mm.

The MC-VG Series also has a large opening to facilitate easy handling of big workpieces. The MCC2516VG has an opening of 3,500 x 2,150 mm; and the MCC3016VG has an opening of 3,975 x 2,1560 mm. The splashguard ceiling and doors open together to create a large opening for easy loading of big workpieces onto the angle plate inside the machine with a crane.

The semi-floating slideway system is used to facilitate a top cutting federate of 16 m/min even for heavy workpieces. This system sends compressed air between the table slideways to adjust the pneumatic pressure automatically according to table load changes. As a result, slideway resistance is always kept at a low level to reduce lost motion.

The angular guides are hardened, ground to an ultra-precision finish and are integrated with the bed for high rigidity to ensure outstanding straightness. With their superior vibration damping performance, the guides absorb the effects of cutting vibrations to provide uniform machined surfaces of high quality.

Makino's GI.3 control technology moves the tool smoothly along the commanded path, and a high-response servo and high machine rigidity work in concert to deliver superb machining accuracy that does not change even at high cutting speeds. Also available are Super GI.3 control and Super GI.4 control that provide a substantially improved capacity for processing tiny blocks of NC data.

Makino is a global provider of advanced machining technology and application support, where new thinking takes shape for the metalcutting and die/mold industries. Makino manufacturing and service centers are located in the United States, Japan, Germany, Singapore, Italy, France, Korea, Taiwan, Turkey, China, Mexico, Brazil, and India, and are supported by a worldwide distributor network. For more information call 1.800.552.3288, or visit Makino on the Web at www.makino.com.

More from Electrical Equipment & Systems