Horizontal Machining Center offers aerospace productivity.
Press Release Summary: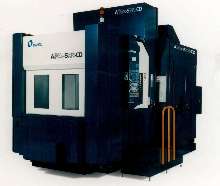 Model A99E-CD utilizes Continuous Dress creep feed grinding technology, and can mill, bore, drill, tap and turn, as well as grind. It removes metal at up to 11 in.³/min on nickel-based alloys. Milling is at 12,000 rpm on spindle with 4 in. extension, which includes 8,000 rpm continuous dress spindle and 13.8 in. vertical spindle travel path. With X, Y and Z axis travels of 49 x 31 x 49 in., Model A99E-CD allows rapid traverse and maximum cutting feedrate of 1,968 ipm.
---
Original Press Release:

Makino's A99E-CD Offers Aerospace Productivity and Flexibility


Combines Horizontal Machining Center Milling Assets with Continuous Dressed Creep Feed Grinding Technology

MASON, OH-September 2003- The A99E-CD high-speed horizontal machining center from Makino is the company's most flexible and adaptive aerospace manufacturing machine. The multi-purpose A99E-CD can cut up to 75 percent off cycle times of both milling and grinding production operations due to its utilization of Continuous Dress (CD) creep feed grinding technology on the same machine as conventional high-speed milling processes.

The A99E-CD can mill, bore, drill, tap and turn, as well as grind, using a patented grinding process. This potent resource combination can further reduce up to 90 percent of cycle time through combined milling and grinding operations.

Grinding and Continuous Dressing
Continuous Dressing is a vital productivity enhancement. Dressing the wheel with each revolution always ensures that a fresh, abrasive edge is exposed. And, it eliminates the buildup of substrate material and saves on grinding wheel life and improves grinding wheel profile quality.

The new grinding process requires close coordination between the machine, the coolant supply and the composition of the grinding wheel. The machine positions the coolant supply nozzle precisely at the proper orientation and adjusts coolant pressure ahead of the grinding wheel in the process.

The centrifugal force of the rotating wheel then forces the coolant to come out of the wheel through the grind, keeping the abrasive edges clean, cool and sharp. The result is a process
that enables grinding to achieve far greater metal removal rates than milling in many hard to machine materials.

Benefits and Advantages
The A99E-CD can remove metal at a rate up to 11 cubic inches (28 cm) per minute on very tough nickel-based alloys. With 36 kW of power, it can also remove 11 cubic inches (180 cc) of stock with a process performance rating of Qw 300. Milling is at 12,000 rpm on a spindle with a 4-inch (230 mm) extension, which includes an 8,000 rpm continuous dress spindle and a 13.8-inch (350 mm) vertical spindle travel path.

With X-, Y- and Z-axis travels of 49 x 31 x 49 inches (1,250 x 800 x 1,250 mm), the A99E-CD allows rapid traverse and maximum cutting feedrate 1,968 ipm (50,000 mm/min). The 31.5 inch (800 mm) square pallet has a maximum workzone of 43.3 inches of depth x 47.2 inches of heighth (1,100 x 1,200 mm) and accepts loads up to 3,960 lbs. (1,800 kg).

A99E-CD Features
The rigid, one-piece bed with three-point leveling allows for accurate and stable machining. Makino's core cooled spindle and ball screws, as well as thermal regulation of the CD motor and casing, helps protect both the workpiece and the machinery.

Tool capacity on the A99E-CD is 25 tools for 300-mm grinding wheels, up to 29 tools for 150-mm dressing wheels and up to 32 tools for 100-mm cutting tools in the ATC. It can handle 11.8 inches (300 mm) in cutting and grinding tool diameter, 5.9 inches (150 mm) in dressing roll diameter and can also handle a maximum tool length of 23.6 inches (600 mm) and maximum tool weight of 66 lbs (30 kg).

Advanced data management technology and Makino's proprietary, next generation Super Geometric Intelligence (SGI.3) servo control deliver the lowest cycle times available.

A 5-axis rotary table is optional on the A99E-CD. This allows 0.001 degree positioning in 5 axes, and an 83.3-rpm maximum rotation speed.

Additional options include:
o programmable coolant nozzle
o automatic coolant nozzle changer
o EROWA pallet workpiece interface
o high-accuracy orientation and clamping for a broaching or turning tool

Makino is a global provider of advanced machining technology and application support for the metalcutting and die/mold industries, dedicated to driving out more costs from your manufacturing operation than any other competitive machine tool manufacturer. Makino manufacturing and service centers are located in the United States, Japan, Germany, Singapore, Italy, France, Korea, Taiwan, Turkey, China, Mexico, Brazil and India, and are supported by a worldwide distributor network. For more information call 1.800.552.3288, or visit Makino on the Web at www.makino.com.

More from Mechanical Power Transmission