Horizontal Machining Center is for making engines.
Press Release Summary: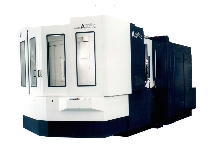 A99E replaces former A99. Enhancements include dimensions that increase strength, metal removal capability, speed of operation and workzone size. X, Y and Z-axis travel is 49.2 x 43.3 x 49.2 in. and square pallet has maximum workzone of 57 x 57 in. It has 40 hp 50 taper spindle with top speed of 10,000 rpm and accepts loads up to 4,400 lb. Applications include manufacturing in diesel engine block, transmission and semiconductor industries.
---
Original Press Release:
Makino Announces A99E HMC

MASON, OH-November, 2001 The A99E horizontal machining center (HMC) has been completely redesigned to substantially upgrade the quality and performance of the machine. This all new 1-TMC replaces the former A99, and includes new designs and dimensions that enhance its strength, metal removal capability, speed of operation and workzone size.

The new A99E has X, Y and Z-axis travels 49.2' x 43.3" x 49.2" (1,250 x 1,100 x 1.250 mm), more than 35-percent larger than its predecessor. The new four-bearing 40 horsepower 50 taper spindle has a top speed of 10,000 rpm. The 31.5" (800mm) square pallet has a maximum workzone of 57"d x 57"h (1,450 x 1,450 mm), which is nearly 60-percent larger than the previous model.

This new version from Makino is ideally suited for manufacturing in the diesel engine block, transmission and semiconductor markets. The A99E accepts loads up to 4,400 lbs. (2,000 kg), which is 12-percent higher than its predecessor, with an optional upgrade to 6,600 lbs. (3,000 kg). Cutting feedrates and rapid traverse rates are at 1,970 ipm (50mm/min).

A40-tool magazine is standard on the A99E. An HSK-AI100 spindle is an available option, as are 90, 132, 188 and 244 tool storage options. Maximum tool capacities have also been substantially increased. The maximum tool diameter is 300 mm, and the maximum tool length i-s 540 mm, a 30- percent increase over the original A99. An optional long tool magazine rack is available to handle special tools up to 850 mim in length.

Capability, Speed and Size The A99E has a tremendous metal removal rate capability of 244 cubic inches per minute (4,000 cm3/minute) for softer metals such as aluminum, and a 61 cubic inches per minute rate (1,000 cm3/min) for mild steel. It also has a 360-degree bi-directional index table for superior versatility and machining flexibility. The 1.7-second automatic tool change and the 5.0-second chip- to-chip time significantly reduce the non-cutting time of the A99E.

As with all Makino A-series machines, the highly rigid bed allows for use of a three-point leveling system, which assures precise squareness and straightness in every axis, even when loaded with the heaviest allowable workpieces . The A99E has a center trough design effective for dry machining applications. A double-layer lift-up chip conveyor is standard, which is designed to handle both large and fine chips, and includes both a scaper, belt conveyor and drum filter.

More from Test & Measurement