Horizontal Machine Supports prevent walking and stop sway.
Press Release Summary: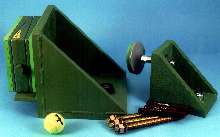 AirLoc Horizontal Wedgmount® Machine Supports offer integral damping and cushioning capabilities that dissipate up to 90% of horizontal load forces. Available with different mounting brackets, hardware, and vibration control pads, products can be adapted to customer requirements for machines and presses up to 3,000 tons or more. Installations include 4 individual supports offered in sizes that can withstand horizontal load forces from 5,000-250,000 lb.
---
Original Press Release:

Horizontal Machine Supports Modular Products Create Custom Mounts


A full line of horizontal supports for large and small machines that can be easily customized to prevent walking and stop sway has been introduced by AirLoc, a Div. of Clark-Cutler McDermott Company of Franklin, Massachusetts.

AirLoc Horizontal Wedgmount® Machine Supports feature integral high damping and cushioning capabilities that can dissipate up to 90% of horizontal load forces, depending upon model. Available with different mounting brackets, hardware, and vibration control pads, these modular supports can be adapted to customer requirements for machines and presses up to 3,000 tons or more.

Typical AirLoc Horizontal Wedgmount® Machine Support installations include four individual supports offered in a wide variety of sizes that can each withstand horizontal load forces ranging from 5,000 lbs. to 250,000 lbs. Suitable for smaller machine tools and injection molding machines as well as large molding machines, stamping, and screw presses, they are superior to fixed machine supports which can cause floor damage and halt production.

AirLoc Horizontal Wedgmount® Machine Supports are priced from $50. to $2,500. (list), depending upon size. Literature is available upon request.

For more information contact:

AirLoc, a division of Clark-Cutler McDermott Company
James H. Aimone, Marketing
5 Fisher St. / P.O. Box 269
Franklin, MA 02038
(800) 922-3019 or (508) 528-0022
FAX (508) 528-1236
e-mail: info@airloc.com
www.airloc.com


More from Thermal & Heating Equipment