Horizontal Bucket Conveyor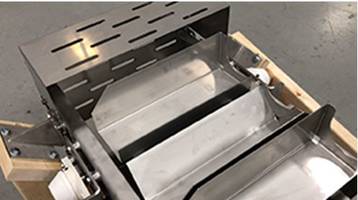 ...For 45° product rotation
Winneconne, WI - Multi-Conveyor (www.multi-conveyor.com) - Multi-Conveyor recently built this Multi-Conveyor recently built this dual strand, roller chain conveyor with bucket-style attachments to transport loaves of bread - ultimately ending up at a robotic pick zone.
Alternating back-to-back buckets are horizontal and rotated 45-degrees. The back-to-back design was specified based on how the loaves were being both loaded and unloaded.
Dual strand stainless steel roller chain designs may have pre-tensioned linkage with attachments needed for the customized buckets. This design required every-other-bucket 45 degree rotation.
Another unique customer request were square cutouts in lower end of the buckets for customer-supplied photo eyes to detect product inside the buckets. Sanitary requirements were stainless steel, continuous and cleaned welded design.
Heavy duty brackets were added to mount inside the customer's bread making machine providing additional stability and alleviating any flex in the conveyor itself. In general, the customer requested a "beefy design" for longevity, bucket placement and timing, simplistic bucket cleaning by removal and replacement of buckets, and overall maintenance purposes.
View this machine on YouTube at: https://youtu.be/Aaf-MkqZCkA
About Multi-Conveyor
Multi-Conveyor is a leading manufacturer of standard and custom conveyor solutions for End-Users, Integrators, Engineering firms, OEM's and Contract Packagers across multiple markets. We specialize in conveyor systems for packaging or material handling for nearly every industry, product, shape and size. Our customers report they select Multi-Conveyor for concept/design, engineering skills, quality product, best value and prompt delivery.
Multi-Conveyor excels in OEE, sanitary conveyors, easy to maintain, clean-in-place or "no tools required" belt changeover systems for nearly any industry. We direct manufacture stainless steel and mild steel construction conveyors for table top chains, modular plastic belts, fabric belting, wire belt, and new custom sanitary MDR and sanitary gravity roller systems. Our in-house electrical and engineering departments execute the controls, panels, devices, PLCs, VFDs, HMIs, safety, inspection and sensors needed to integrate our systems with multiple packaging platforms. Quick ship plastic chain and low-profile, small transfer, pre-engineered sanitary and non-sanitary belt systems are available for quick delivery too!
All of our conveyor construction designs and technologies can be found on our website at www.multi-conveyor.com. Then visit our comprehensive video gallery to learn more.
Contact Info for Publication:
Multi-Conveyor LLC
P O Box 10
Winneconne, WI 54986
1-800-236-7960
info@multi-conv.com
www.multi-conveyor.com
PR Contact Non-Publication:
cmiller@multi-conv.com
More from Material Handling & Storage