Horizontal Boring Mills target job shops.
Press Release Summary: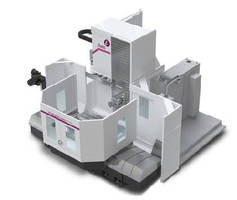 Engineered for flat-floor installation, T-bed Boring Mills are configured with 22,000 lb capacity and 49.2 x 55.1 in. hydrostatic contouring rotary table. Models RT 130 and RT 155 feature 5.1 and 6.1 in. diameter gear-driven spindles, respectively, with up 2,493 lb-ft torque. X-Y-Z axis travels are 78.7, 59.1, and 63 in. with W-axis spindle travel of 29.5 in. Based on cast-iron structure, machines feature cross-braced column, linear scales, and electronically counterbalanced Y-axis headstock.
---
Original Press Release:

Fives Introduces New Line of Giddings & Lewis Horizontal Boring Mills Featured and Priced for Job Shops



FOND DU LAC, Wis., – Fives Giddings & Lewis goes toe-to-toe in cost competition by introducing a new line of U.S.-built T-bed boring mills with high accuracy and cutting capacity, but designed and priced for job-shops. T-bed or travelling column boring mills move the column in the Z-direction and the tables in X. Engineered for flat-floor installation, small footprint and low ceiling clearance, the first models of the machine are configured with a 10,000-kg capacity (22,000 lb) 1250 x 1400 mm (49.2 x 55.1 in) contouring rotary table. Optional 1400 x 1800 mm (55.1 x 70.9 in) tables are available. The new machine will be exhibited at IMTS in booth S-8109.



Traditional robust Giddings & Lewis design and build characteristics

"These job-shop boring mills are the heavyweights in their class, designed with beefy cast-iron structures, a cross-braced column for torsional stiffness, linear scales, a precision hydrostatic contouring table and 25 kN thrust capacity," said Jim Vadnais, Product Manager. "We developed these machines to meet specific cost, size, feature and performance targets for job shops, while retaining the premium engineering and build quality our larger machines are known for."



The machines are sized to fit the smaller physical plant of most job shops and tool rooms. Low height and flat-floor installation facilitate machine relocation if necessary. An integral table-mounted pan helps contain chips and coolant. High-end features on the new machines include an electronically counterbalanced Y-axis headstock for superior contouring performance. The sidehung headstock improves visibility and access for the operator. The spindle snout reaches over the table for rigid cutting without extension and with spindle travel extends well beyond center. In addition, the spindle can reach below table top to probe for location on the table or a particular feature. Permanently greased spindle bearings reduce maintenance. The zero-backlash rotary table is powered by two independent motors and pinion drives that are tensioned against each other to compensate for any lost motion.



The new Giddings & Lewis RT 130 and RT 155 boring mills feature 130 or 155 mm (5.1 or 6.1 in) diameter gear-driven spindles available with up to 45 kW (60 hp) and 3380 Nm (2493 ft lb) torque.



All spindles are size 50 tool taper, and equipped with Giddings & Lewis' exclusive spindle thermal growth compensation.



Heavy-duty linear ways on these machines utilize roller bearing carriages that ride on hardened and ground guideways. This rigid, low-friction system supports high loads and fast traverse speeds



By eliminating the stick-slip and thermal growth common to box ways, linear ways facilitate better true positioning and contouring accuracy. They also require less lubrication, thus reducing coolant contamination. Standard X-Y-Z axis travels are 2000, 1500 and 1600 mm (78.7, 59.1, 63 in) with W_axis spindle travel of 750 mm (29.5 in).



New boring mills engineered for job shops

Premium quality at a low price

Zero backlash rotary tables, gear-driven headstock, permanently lubricated spindle

Spindle and torque adapted to high metal removal or hard metals

Metal Cutting | Composites



Diagnostic services to ensure continuity of operation

All CNC's for the new machines are equipped with Fives Machining Systems new Diagnostic Communications System (DCS). The DCS allows customers to connect with Global Service technicians on a secure system to review active alarms and operator messages, operator and alarm histories, control parameter settings, PLC programs and the state of devices such as solenoids, switches and encoders. According to Fives, 30 to 40 percent of stoppages can be overcome immediately this way without waiting for a service call.



For additional information see: fivesgroup.com or the Fives Metal Cutting I Composites website

http://metal-cutting-composites.fivesgroup.com.



About Fives in Metal Cutting | Composites

The Metal Cutting © Composites offer is specialized in the supply of machine tools and complete manufacturing solutions.



With a strong foundation based upon renowned legacy names such as Cincinnati, Giddings & Lewis, Forest-Lin, Lin Machines and Rouchaud, Fives is recognized as the preeminent provider of outstanding manufacturing solutions which are at the heart of its customers' performance.



Fives Metal Cutting | Composites dedicated teams — approximately 1200 people in over 15 countries — serve key industrial markets including aerospace, automotive and truck, heavy equipment, oil and gas, rail, wind, energy and general machining. With manufacturing and support operations strategically located worldwide, Fives and its Metal Cutting | Composites activity offer comprehensive lines of equipment and technologies including turning, milling, composites processing and software, additive manufacturing, laser welding and cutting with the associated support services (maintenance, spare parts, retrofit, overhauling and upgrading).



About Fives

Fives is an industrial engineering Group with a heritage of over 200 years of engineering excellence and expertise. Fives designs and supplies machines, process equipment and production lines for the world's largest industrial groups in various sectors such as aluminum, steel, glass, automotive, logistics, aerospace, cement and energy, in both developing and developed countries. In all these sectors, Fives designs and manufactures equipment and innovative solutions, which better anticipate and meet the needs of its customers in terms of performance, quality, safety and respect for the environment.



In 2015, Fives achieved a turnover of 1.7 million Euros and employed close to 8,300 people in about thirty countries.



Press contacts:

Fives Giddings & Lewis :

Linda Kieckhafer

+1 920 906 2328

linda.kieckhafer@fivesgroup.com



Fives Group:

Claire Mathieu

+33 1 45 23 76 21

claire.mathieu@fivesgroup.com