Horizon Industries adds Plasma Cutting Services to increase Its Metal Fabricating Capacity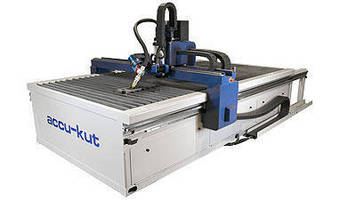 Horizon Industries, Inc, located in Columbia, Pa, has added the High Definition AKS Mastercut Plasma Cutter to add to its fabrication capabilities. We work with aluminum, carbon steel and stainless steel to capacities of up to 6-foot x 12-foot long sheets.



Designed and manufactured in the USA , the Accu-Kut CNC Plasma Cutter offers near-laser cut quality and accuracy at a fraction of the investment and operating costs as convention CO2 lasers. The Accu-Kut combines the best in plasma cutting machine technology.  We also added the Hypertherm torch including a  CNC controller with multi-tasking, large color LCD touch screen, allowing  us  achieve the optimal utilization for more exacting tolerances.



For applicable jobs, we can partner with local laser and waterjet cutting vendors to provide parts at very aggressive pricing. 



Adding to our other tooling capabilities including CNC Shearing, Bending and Punching, CNC Machining & Turning, Welding and Stamping,  we offer quick turnaround of custom cut shapes for our customers.



About Us:

Horizon Industries is a full service metalworking job shop, formulated in 1965 and expanding and moving to its current 21,000 square foot facility.  We specialize in small parts prototype and production work involving machining, sheet metal fabricating, stamping, welding and assembly. We service many industries including electronic, food service, transportation, point of purchase, industrial automation and material handling, climate control, energy, construction and many others. For more information please visit our website www.horizonindustries.com, or call 1-800-270-5096.





More from Electronic Components & Devices