HORIBA Medical Hematology Analyser Proves Ideal for Fast Drug Therapy Decision Making at POC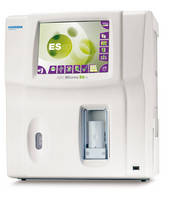 The ABX Micros ES60

Northampton, UK - A study has confirmed that the granulocyte count of the recently launched ABX Micros ES60 3-part differential hematology analyser from HORIBA Medical correlates well when compared to the neutrophil count of a 5-part differential analyser, in the absence of specific flagging. The neutrophil count is a key parameter in determining the treatment outcomes, with regards to chemotherapy, for both oncology and hematology patients, as well as for some other drug therapies, such as Clozapine.

The use of point of care testing (POCT) to make rapid treatment decisions is becoming increasingly popular in order to achieve greater efficiency and improve patient pathways. The ABX Micros ES60 analyser provides a fast, laboratory standard full blood count, with a 3-part differential in a variety of POC settings. Combining ease of use and a small footprint with CPA compliance, it is ideal for use within the POCT environment.

The ABX Micros ES60 produces a granulocyte count, consisting of neutrophils, eosinophils and basophils, as part of the 3-part impedance differential. The neutrophils make up more than 95% of the granulocyte population and therefore the granulocyte count from the ABX Micros ES60 should correlate well with a neutrophil count from a 5-part differential analyser provided that there are no flags alerting the operator of elevated eosinophil or basophil populations. The study examined the correlation between the neutrophil count from a 5-part differential analyser and the granulocyte count from the ABX Micros ES60.

The results of the study, undertaken by scientists at the University Hospital of Wales in Cardiff in collaboration with HORIBA Medical specialists, showed an excellent correlation (R = 0.9885) between the granulocyte count from the ABX Micros ES60 and the neutrophil count from the 5-part differential analyser. This suggests that the ABX Micros ES60 granulocyte count can be confidently taken as the neutrophil count in therapeutic drug monitoring, provided that no M2 alarms are triggered.

To download a poster of this study presented at ISLH 2010, please visit: http://www.horiba.com/uk/medical/feedback/poc-case-study-abx-micros-es-60

ABOUT HORIBA Medical:

www.horiba.com/uk/medical

Analysis Anywhere: HORIBA Medical (formerly known as HORIBA ABX) is a renowned specialist in the design and manufacture of automated in vitro diagnostic systems for hematology for over 25 years, and chemistry focused analytical solutions for over 10 years. From compact to high throughput systems, HORIBA Medical has successfully developed an array of analysers, pre and post-analytical and data management solutions to meet all needs, enabling LEAN analysis anywhere it is required.

Specialist bench top analysis: In addition to large NHS laboratories and Point of Care settings, HORIBA Medical systems are also found in many areas of industry requiring specialist analysis, including veterinary diagnostics, sports science, food and beverage, pharma and neutraceuticals, and clinical research. The company's benchtop analysers, such as the ABX Pentra 60C+ for hematology and ABX Pentra 400 for chemistry analysis, are proving their worth in these environments due to their exceptional flexibility and ease of use.

Animal healthcare products: In addition to hematology and clinical chemistry analytical solutions, HORIBA Medical also now offers endoscopy products, as well as surgical and therapeutic diode laser technology for veterinary professionals.

Trusted expertise: HORIBA Medical is one of the five major operators in the automated hematology analyser market. Headquartered in Montpellier (France), the company employs more than 1,000 staff in its sites and subsidiaries, producing nearly 7,500 analysers per year and over 8,000 tons of reagents. This makes HORIBA Medical the leading developer and manufacturer of hematology diagnostic systems in the world equipping more than 27,000 laboratories in over 110 countries worldwide.

In the UK, the foundation of HORIBA Medical is built around its excellent support network of 31 personnel. The dedicated sales, service, technical and administration teams strive to ensure customers can work as smoothly and efficiently as possible, whatever their location. The scientific expertise within these teams provides customers with an educational and reference resource, and even assists in research and evaluation projects.


More from Optics & Photonics