Hopper Separators promote maintenance plan efficiency.
Press Release Summary: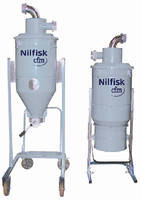 When used in conjunction with industrial vacuum cleaners, Nilfisk CFM Hopper Separators can help plant managers increase collection capacity, separate ingredients for re-use, or account for collected materials. Each unit can be equipped with self-cleaning cartridge filtration for large or heavier particles and has 3 options for disposal of collected debris. Various discharge valves and operation controls are available, such as electro-pneumatic reverse purge filter-cleaning system.
---
Original Press Release:

Nilfisk CFM Hopper Separators Add Efficiency and Versatility to Maintenance Plans



Whether plant managers are looking for increased collection capacity, the need to separate ingredients for re-use, or account for collected materials, Nilfisk CFM's Hopper Separators are a great addition to a plant's maintenance plan when used in conjunction with the company's already high-power industrial vacuum cleaners.

Offering a wide range of capacity and discharge options, Nilfisk CFM Hopper Separators can be combined with the Nilfisk CFM line of CV blower units to fulfill any central vacuum system need. The Hopper Separators can be equipped with self-cleaning cartridge filtration for large or heavier particles. Each Hopper Separator has three options for disposal of the collected debris to fit virtually any industrial process, and can be equipped with a variety of discharge valves and operation controls such as an electro-pneumatic reverse purge filter-cleaning system to add efficiency and value to central vacuum applications.

For more information on Nilfisk CFM's Hopper Separators or central vacuum systems, call 1-800-645-3475 or visit www.nilfiskcfm.com

Nilfisk CFM, the industrial vacuum division of Nilfisk-Advance America, helps its industrial customers meet their individual cleaning requirements and challenges with an extensive range of high-performance vacuum cleaners. From its Malvern, Pa. headquarters, the IVAC division provides industrial vacuums for heavy-duty applications that require maximum suction power; and specialty vacuums for clean applications that demand "absolute" air purity and facility cleanliness. The company's vacuums are equipped with industry-specific features and exceptionally efficient filtration systems, ensuring dust- and debris-free facilities in the food, chemical/pharmaceutical, electronics, metalworking/powder coating, and a variety of manufacturing industries. stop-the-dust.com

More from Portable Tools