Hopper Bottom Container stores/dispenses small, dense items.
Press Release Summary: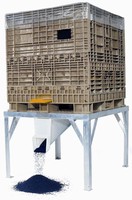 At 34 in. tall, plastic bulk container features 32 x 30 in. footprint and hopper style bottom designed to store and dispense fasteners, screws, and other small, uniformly shaped items. It has pallet-style base, accessible on all 4 sides, for movement with forklift or pallet jack when full or empty. Slide gate allows product dispensing via gravity at controllable flow rate. Unit has smooth, angled interior and is designed to handle up to 1,200 lb.
---
Original Press Release:

Hopper Bottom Container Offers an Ergonomic Solution to Storing and Dispensing Fasteners and Other Small, Dense Items



DALE, IN (October 3, 2008) - Universal Package Systems offers a plastic bulk container with a 32" x 30" footprint and a hopper style bottom designed to store and dispense fasteners, screws and other small, uniformly shaped, dense items. The new container is 34" tall and features a pallet style base accessible on all four sides, making it easy to move with a forklift or pallet jack when full or empty. A simple but effective slide gate on the 32" side allows product to be dispensed using gravity at an easily controllable flow rate.

It eliminates the need to store or stage items in smaller, but less durable containers such as corrugated boxes that can easily tear, rip or break open. Fasteners and similar items are typically stored in small boxes so they can be lifted and handled manually as needed. The weight of the boxes however, presents a potential ergonomic problem that can lead to worker injuries. The hopper bottom is designed to handle up to 1200 lbs, and eliminates the constant manual lifting of small heavy loads.

With a smooth, angled interior, all product is completely dispensed, and no secondary removal processes are necessary. Custom mounting racks can be built based on need and location to dispense product into small containers, or to a conveyor or assembly line. A stock stand, lids and liners are also available.

About Universal Package Systems

Universal Package Systems is a manufacturer and marketer of new and used, reusable plastic and metal bulk containers, totes, dunnage, pallets and custom material handling solutions.

For more information:

Universal Package Systems

21217 North US Highway 231

Dale, IN

1-866-875-9918

Fax: (812) 937-9852

www.UniversalPackage.com