Hook-Up Wires are environmentally friendly.
Press Release Summary: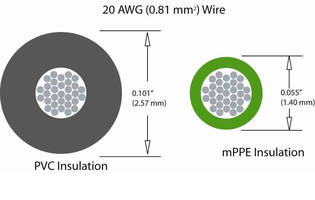 Designed with modified polyphenylene ether thermoplastic (mPPE), RoHS compliant UL AWM 11028 wires are available in sizes from 28-10 AWG with solid or stranded tinned copper conductors. Rated for operating temperatures to 105°C, units meet UL VW-1 flammability standards. Non-halogenated insulation contains no heavy metal pigments, allowing manufacturers to meet Waste Electrical and Electronic Equipment requirements.
---
Original Press Release:

Alpha Wire Introduces Environmentally Friendly EcoWire(TM) Hook-Up Wire



Smaller, Lighter, and More Robust Than PVC

Elizabeth, NJ, October 30, 2009 - New EcoWire hook-up wire from Alpha Wire uses a modified polyphenylene ether (mPPE) thermoplastic that is inherently lighter, tougher, and more flame resistance than PVC. The result is UL AWM wires that are smaller than their PVC-based counterparts. The non-halogenated insulation contains no heavy metal pigments, allowing it to help manufacturers to meet Waste Electrical and Electronic Equipment (WEEE) requirements.

"EcoWire gives designers a remarkable alternative in hook-up wire," said Konstantin Khitrik, Product Manager at Alpha Wire. "It yields significant space and weight savings over PVC counterparts, while offering ten times better abrasion and pinch resistance. Because mPPE contains no halogens, phthalates, or heavy metals, it meets RoHS and WEEE requirements for the elimination of hazardous substances and recyclability."

For example, a 20 AWG PVC-insulated wire has a diameter of 0.101 inch (2.57 mm). The equivalent EcoWire has a diameter nearly 50% smaller at 0.055 inch (1.40 mm).

The initial EcoWire offering is a UL AWM 11028 wire available in sizes from 28 AWG (0.07 mm²) to 10 AWG (5.37 mm²) with solid or stranded tinned copper conductors. Rated for operating temperatures to 105°C, the wires meet UL VW-1 flammability requirements.

For additional information, contact Alpha Wire at 800-52-ALPHA (522-5742) or visit the Company's website at www.alphawire.com.

About Alpha Wire

For over 80 years, Alpha Wire has designed and manufactured industry-leading wire, cable, and tubing products for factory automation, packaging, automotive, alternative energy, and other technically advanced applications. Beyond giving our customers the cables they trust for quality and reliable high performance, we give them the committed service they deserve. We help customers find the best possible solutions to production and manufacturing challenges with small put-ups, logistical excellence, and broad inventory for dependable, same-day shipment.

Corporate Contact

Mike Dugar

Alpha Wire

908-587-4020

mdugar@alphawire.com