Honing Machines fit on any workbench.
Press Release Summary: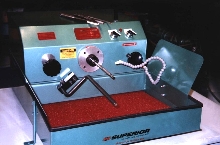 Portable BH and BH-A machines come with infinitely-variable speed control, motor drive, and self-contained coolant system. Both use 2-stone mandrel to hold 2 ground stones, eliminating need to replace mandrels. Honing range is from 0.060 ID. Tooling always runs on center, without need for spindle realignment. Applications include bushings, keyways, spline gears, blind bores and single-pass honing.
---
Original Press Release:
Portable Bench Top Honing Machine Saves Money
The Superior Honing Equipment Company of Sarasota, Florida is producing a small bench type honing machine. The self-contained, compact machine can be placed on any workbench and offers a wide variety of features. The machine, available in 2 models, the BH and BH-A automotive model, come complete with an infinitely variable speed control, powered by a new high torque motor drive and includes a self contained coolant system. The machine uses the exclusive 2 stone mandrel to hold 2 precision ground stones, eliminating the need to replace mandrels. The honing machine has a versatile honing range from .060 I.D., and higher more consistent accuracy is ensured as the tooling always runs on center without the need for spindle re alignment. This unit is ideal for a wide range of production and tool room applications, including bushings, keyways, spline gears, blind bores and is ideal for single pass honing. Photo caption: Single pass diamond hone with 2 stone mandrel. HONING MACHINES-CUSTOM & REBUILT/ MANDRELS/STONES/ABRISAVES TOOLS/ COOLANTS / CONTRACT HONING FOR INDUSTRIAL & AUTOMOTIVE REQUIREMENTS
Related