Honeywell's Controledge RTU First to be Awarded Isasecure Level 2 Certification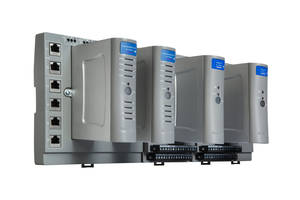 Independent assessor exida recognizes cyber security features of remote terminal unit
HOUSTON, June 7, 2018 – Honeywell (NYSE: HON) Process Solutions (HPS) today announced that its ControlEdge™ Remote Terminal Unit (RTU) process controller is the first RTU that has received ISASecure® Embedded Device Security Assurance (EDSA) Level 2 certification. The assessment by independent ISO 17065 accredited certification body exida considered both the integrity of the RTU and its development lifecycle, as well as communication robustness testing and functional and software development security assessments.
The certification recognizes the cyber security features of the ControlEdge RTU, which is used for remote automation and control applications such as wellhead monitoring in the oil and gas industry. Tests by exida found the RTU was "free of known cyber security vulnerabilities, robust against network attacks and [conformed] to ISASecure EDSA Level 2 security capabilities".
"Robust, reliable remote monitoring and control is essential for effective and efficient operations, but they have to be implemented securely," said John Rudolph, president of HPS. "Without the highest levels of cyber security, control systems are vulnerable to attacks that can disrupt operations and potentially undermine assets and public safety. We're pleased that independent bodies consistently confirm that Honeywell's connected solutions meet the exacting standards today's industrial environments demand."
The ISASecure certification was developed by the ISA Security Compliance Institute (ISCI) based on the ISA/IEC 62443 series of standards to improve the cyber security of industrial automation and control systems. The Level 2 certification recognizes more advanced levels of protection such as securing the confidentiality and integrity of data at rest and in motion, detection of unauthorized changes and additional safeguards against denial of service attacks compared to Level 1 certified devices. In addition, Level 2 certification requires a more robust secure development life cycle.
 "Cyber security is becoming critical for control system products," said Andre Ristaino, ISCI managing director. "Honeywell has invested heavily to become a leader in this respect, and these certifications reflect that."
Honeywell's RTU helps facilities manage complex distributed equipment while converting data from complex automation systems into relevant, actionable information. Used with Honeywell's SCADA product, it offers an integrated solution that reduces equipment monitoring and diagnostic time from hours to minutes.
The RTU is the fifth Honeywell device certified under the ISASecure scheme. Last August, its ControlEdge™ PLC became the first PLC to be awarded the ISASecure Level 2 certification. Its Phoenix, AZ, USA development site, meanwhile, was awarded the ISASecure SDLA certification in 2016, confirming that secure development lifecycle practices were institutionalized at the site.
For more information about the ControlEdge RTU and other Honeywell SCADA-related products visit our website.
Honeywell Process Solutions (www.honeywellprocess.com) is a pioneer in automation control, instrumentation and services for the oil and gas; refining; energy; pulp and paper; industrial power generation; chemicals and petrochemicals; biofuels; life sciences; and metals, minerals and mining industries. It is also a leader in providing software solutions and instrumentation that help manufacturers find value and competitive advantage through Honeywell Connected Plant, Honeywell's Industrial Internet of Things (IIoT) solution. Process Solutions is part of Honeywell's Performance Materials and Technologies strategic business group, which also includes Honeywell UOP (www.uop.com), a leading international supplier and licensor of process technology, catalysts, adsorbents, equipment, and consulting services to the petroleum refining, petrochemical, and gas processing industries.
Honeywell (www.honeywell.com) is a Fortune 100 software-industrial company that delivers industry specific solutions that include aerospace and automotive products and services; control technologies for buildings, homes, and industry; and performance materials globally. Our technologies help everything from aircraft, cars, homes and buildings, manufacturing plants, supply chains, and workers become more connected to make our world smarter, safer, and more sustainable. For more news and information on Honeywell, please visit www.honeywell.com/newsroom.
Contact:
Stefanie Cuene
+1 480.420.5186