Honeywell Introduces GoDirect Flight Planning Software That Reduces the Time Needed to Plan a Flight
Press Release Summary: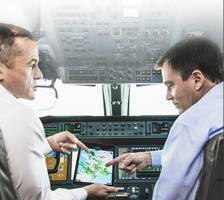 The GoDirect® Flight Planning Software Flight Planning Engine allows pilots to choose more cruise speeds and provides route performance data with each route option. It increases the accuracy of planning with improved pilots and operators control over how much fuel is required and time taken from departure to destination. The software allows user to easily move between separate portals and minimizes the amount of information to input.
---
Original Press Release:
New Honeywell Connected Aircraft Software Tool Simplifies Flight Planning
GoDirect Flight Planning provides operators with faster, more accurate flight plans along with a highly integrated view of cabin connectivity, flight planning and tracking, all from a single sign-on
PHOENIX, Oct. 15, 2018 /PRNewswire/ -- Honeywell (NYSE: HON) is drastically reducing the need for multiple flight operations tools with the debut of a new software-based flight planning engine. The new GoDirect® Flight Planning technology provides pilots and operators in the business and general aviation space with faster and better options when planning flights worldwide.
"Honeywell has built a unique flight planning solution around next-generation flight management system technology," said John Peterson, senior director, Connectivity Services, Honeywell Aerospace. "With just a click, GoDirect Flight Planning presents pilots with a comprehensive list of routes at multiple cruise modes and various approaches and departures. In addition, the pilot can select the route based on time, fuel used and forecasted weather around the globe."
Honeywell's GoDirect Flight Planning engine and the accompanying website are designed to greatly simplify the flight planning workflow. It minimizes the amount of information to input, reducing the time needed to plan a flight. The results have been proved over a two-month trial period where flight plans — both domestic and international — were generated 75 percent more quickly than before.
Features of GoDirect Flight Planning
Greater configurability: Pilots can choose more cruise speeds than before with the aid of Honeywell's cruise performance algorithms.
Data at your fingertips: Route performance data is provided with each route option, allowing pilots and operators to compare multiple cruise modes with every route.
Increased accuracy: Pilots and operators have more control over how much fuel is required and exactly how much time it will take from departure to destination.
A single sign-on: Users can now move easily between previously separate portals and monitor cabin connectivity, flight planning and tracking all from one place.
GoDirect Flight Planning is part of Honeywell's GoDirect portfolio of more than 50 aviation services and applications that provide operators, flight crews and maintenance teams with critical information to manage their services and network efficiently. All GoDirect Flight Service customers have access to GoDirect Flight Bag Pro, an electronic flight bag application from Honeywell. 
To learn more about GoDirect Flight Planning, visit Honeywell's booth #2600 at NBAA 2018 to see a demo of the new combined flight and cabin portal integrated with the new flight planning engine.
Supporting Resources
Honeywell Aerospace products and services are found on virtually every commercial, defense and space aircraft. The Aerospace business unit builds aircraft engines, cockpit and cabin electronics, wireless connectivity systems, mechanical components and more. Its hardware and software solutions create more fuel-efficient aircraft, more direct and on-time flights and safer skies and airports. For more information, visit www.honeywell.com or follow us at @Honeywell_Aero.
Honeywell (www.honeywell.com) is a Fortune 100 software-industrial company that delivers industry specific solutions that include aerospace products and services; control technologies for buildings and industry; and performance materials globally. Our technologies help everything from aircraft, buildings, manufacturing plants, supply chains, and workers become more connected to make our world smarter, safer, and more sustainable. For more news and information on Honeywell, please visit www.honeywell.com/newsroom.
CONTACT: Media, Adam Kress, (602) 760-6252, adam.kress@honeywell.com
Web Site: http://www.honeywell.com
More from Material Handling & Storage