Homogenization Laboratory performs material analysis.
Press Release Summary: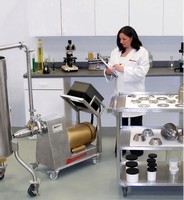 Process Test Laboratory solves particle size reduction challenges by using wet-mix process systems for high- and low-shear mixing of emulsions and dispersions. Able to be scaled-up to any production requirements, system provides complete product testing for purpose of manufacturing specific products that require precise homogenization. In-line dynamic wet mixers or colloid mills are employed to match application for particle size reduction, deagglomeration, and blending needs.
---
Original Press Release:

Homogenization Test Laboratory Performs Material Analysis and Process Validation



A new laboratory that solves particle size reduction challenges in all industries by using wet-mix process systems for high- and low shear mixing of emulsions and dispersions and provides scale-up to full production is being introduced by Bematek Systems, Inc. of Salem, Massachusetts.

Bematek's Process Test Laboratory provides complete product testing for the purpose of manufacturing specific products such as lotions, creams, foods, and purees that require precise homogenization. Employing in-line dynamic wet mixers or colloid mills to match a customer's application for particle size reduction, deagglomeration, and blending, the firm will offer a system that can scale-up to meet production requirements.

Supplying customers with a test report and photograph of the fully integra-ted system best suited to their production application, they can also visit Bematek's Process Test Laboratory to see the equipment at work. Bematek's modular, dynamic in-line mixers feature a patented mixing head with shear action zones which assure that an entire batch will receive the same level of processing with totally repeatable batch-to-batch results.

Bematek's Process Test Laboratory fees are established in advance; based upon process complexity and may be credited towards equipment purchases.

For more information contact:

Bematek Systems, Inc.
Denise Raimo, Marketing
96 Swampscott Rd., Unit 7.
Salem, MA 01970
(877) 236-2835 FAX (978) 922-7801
e-mail: draimo@bematek.com (tech. contact)
www.bematek.com

More from Material Handling & Storage