Hollow Rotary Disk Pumps handle suspended solids.
Press Release Summary: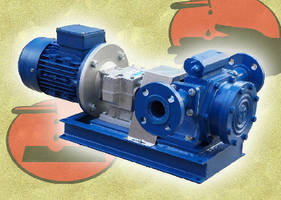 Designed to operate at low speeds, 3P Prinz Pumps handle challenging liquids with viscosities up to 200,000 cSt. Units operate at discharge pressures up to 8 Bar as standard and transfer liquids at flow rates up to 250 m³/hr. Self-priming, positive displacement pumps feature modular construction enabling maintenance without disconnecting pump from piping. Available with cast iron, bronze, and stainless steel wetted materials, pumps ensure broad chemical capability.
---
Original Press Release:

Low-Speed Hollow Rotary Disk Pumps Handle Suspended Solids



A new range of Hollow Rotary Disk pumps which are designed to operate at low speeds and handle more challenging liquids such as those with suspended solids or higher viscosities (up to 200,000 cSt) has been introduced by MICHAEL SMITH ENGINEERS.  Manufactured in Italy since 1952, 3P Prinz low speed rotary, positive displacement pumps are proven and reliable in transferring sensitive liquids at flow rates up to 250 m3/hr.



3P Prinz pumps operate at discharge pressures up to 8 Bar as standard, although high pressures versions can be specified for discharge pressures up to 20 Bar.  They are available in a choice of wetted materials including cast iron, bronze and stainless steel to ensure broad chemical capability, extended pump life and longer service intervals.



With multiple porting and seal options, these versatile pumps are self-priming and, in addition to coping with liquids containing suspended solids, they also provide low-pulsing, accurate output.  The self-priming design with high suction lift capability simplifies installation on-site, while its modular construction ensures simple maintenance operations without the need to disconnect the pump from piping.  The elasticity of the disc also allows for thermal expansion and passage of solid particles in the liquid.



They are also designed for high hydraulic efficiency which means smaller motors are required along with lower running costs, compared to other types of positive displacement pumps.  They have limited dry-running potential which can prevent expensive pump failure in the event of system upsets.



3P Prinz pumps are extremely versatile and suited to a wide range of fluids handling applications in the chemical, petrochemical, oil & gas, food & beverage, pulp & paper, marine & shipbuilding industries or wherever effective and reliable, low-speed pumping of challenging liquids is required.



Further details on 3P Prinz Hollow Rotary Disk pumps are available from:

Michael Smith Engineers, Oaks Road, Woking, Surrey, GU21 6PH, UK.

Tel: FREEPHONE:  0800 316 7891

Fax: 01483 723110

http://www.michael-smith-engineers.co.uk/products/products/3p-prinz



[email protected]