HollandPTC Opens with ProBeam System from Varian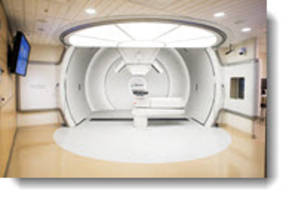 PALO ALTO, Calif., Nov. 30, 2018 /PRNewswire/ -- HollandPTC in Delft, Netherlands, opened today equipped with the ProBeam® proton therapy system from Varian (NYSE: VAR). The center, which recently treated its first patient, features two treatment rooms with fully 360-degree rotational gantries offering image-guided intensity modulated proton therapy (IMPT), as well as facilities for research.
Varian's ProBeam system offers fully-integrated IMPT to enable more efficient adaptive proton therapy. Varian's pencil-beam scanning technology gives clinicians the ability to deliver the dose precisely within the contours of the tumor to minimize dose to healthy tissue.
"The opening of this center is an exciting moment for the staff and patient community in Delft and the surrounding areas," said HollandPTC medical director Marco van Vulpen. "We now have the opportunity to offer this advanced treatment technology from Varian and make a positive impact on many more lives. We also will conduct an extensive R&D program together with Varian, five university medical centers in Rotterdam, Amsterdam and Leiden and the technical University of Delft. Our goals are to enhance proton treatment technology."
"We are very proud of our collaboration with HollandPTC on the opening of this new proton therapy treatment center in Delft, and we look forward to continuing our close partnership on treatment research," said Kolleen Kennedy, chief growth officer and president, Proton Solutions at Varian. "This opening further expands the growing availability of this advanced cancer fighting technology in the Netherlands and around the world."
Varian's ProBeam technology is already being used to treat patients at the California Proton Therapy Center in San Diego, Maryland Proton Therapy Center in Baltimore, Cincinnati Children's/UC Health Proton Therapy Center in Cincinnati, the Paul Scherrer Institute in Switzerland and the PTC St. Petersburg Center of Nuclear Medicine of the Sergey Berezin Medical Institute in St. Petersburg.
About Varian 
Varian is a leader in developing and delivering cancer care solutions and is focused on creating a world without fear of cancer. Headquartered in Palo Alto, California, Varian employs approximately 7,000 people around the world. For more information, visit   and follow @VarianMedSys on Twitter.
Press Contact
Mark Plungy
Director, Public Relations
+1 (650) 424-5630 

Investor Relations Contact
J. Michael Bruff
Senior Vice President, Investor Relations
+1 (650) 424-5163 

Related