Hollaender's® Versatile Speed-Rail® Aluminum Handrail System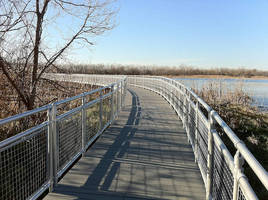 Provides Simple Solution for Handrail Applications Requiring On-Site Design and Installation

CINCINNATI, OH - On occasion, architects and contractors are confronted with conditions that do not justify or allow preparation of detailed drawings for handrail systems. This often occurs in outdoor areas where the ground elevation may change or on old buildings where drawings no longer exist. Hollaender's line of Speed-Rail structural slip-on pipe fittings, which can be used with aluminum, galvanized steel, stainless steel or black iron pipe to construct handrail, safety rail and guardrail, provides a simple and cost-effective solution.

At a recent project at Big Lake Park in Council Bluffs, Iowa, the project architect tapped into the versatility of Speed-Rail, using it to design and build an aluminum handrail system on-site, along a walkway that followed natural terrain that varied considerably. To build the handrail, posts and rails were installed along the walkway as evenly spaced as possible, using Speed-Rail fittings. Once the framework was up, the contractor provided Hollaender with specific measurements of each opening between posts, and Hollaender provided DuoShield(TM) coated, steel, wire mesh infill panels to fit. Hollaender's panel clips were provided to install the infill.

The system was simple to design and install, is highly corrosion resistant, and produced the rugged, industrial look the architect was looking for. Speed-Rail fittings are cast from aluminum alloy 535, the most corrosive resistant aluminum casting alloy available. With over 200 different fitting configurations available for five different pipe sizes, Speed-Rail is perfect for any indoor or outdoor pipe and fitting based project, from the simplest, to the most complex.

All handrail systems built with Speed-Rail can be designed to meet OSHA, IBC, BOCA, SBC and UBC codes.

About Hollaender Manufacturing
Hollaender is a manufacturer and marketer of aluminum structural pipe fittings, aluminum pipe, and infill panels, as well as final assemblies that use these components. These components are used in the design and building of handrail, guardrail and safety rail systems as well as a wide variety of unique modular pipe and fitting based structures for commercial, residential, public works and industrial applications, as well for retail store fixtures and other structural applications. Hollaender also offers consultation, design, and project management services.

More from Architectural & Civil Engineering Products