Hollaender® Manufacturing's Interna-Rail® Meets Maintenance and Visibility Requirements at Iowa Middle School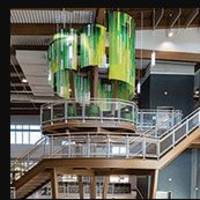 CINCINNATI, OH (April 17, 2018) – Charles City Community School District in Charles City, Iowa installed Hollaender Manufacturing's Interna-Rail aluminum railing systems at the recently completed 19 million dollar Charles City Middle School construction project. The district required a contemporary, low maintenance handrail system with good visibility through the infill panels.  

Hollaender's Interna-Rail handrail met the requirements perfectly. The aluminum handrails are extremely non-corrosive and low maintenance when compared to steel, and are constructed to be sleek, strong and durable. 

In-line fittings make the Hollaender Interna-Rail system easy-to-install and produce a striking architectural appearance. An offset panel attachment provides an uninterrupted infill panel railing system that allows architects to make their chosen panel design the focal point of the installation. Charles City Community School district chose wire mesh infill panels that perfectly met their visibility requirements.

Interna-Rail systems can be designed to meet any building code and are being used throughout the world in architectural, public works, and stadium applications.
About Hollaender Manufacturing
Hollaender is a manufacturer and marketer of both components and engineered railing systems.
In components, Hollaender is the market leader in aluminum structural pipe fittings as well as structures that incorporate these fittings with pipe.
In engineered railing systems, often called "Decorative Metal Railing Systems", the Cincinnati-based company is a leader in aluminum, stainless steel and structural glass railing systems.
 Hollaender components are used in the design and build of handrail, guardrail and safety rail systems, retail store fixtures, as well as a wide variety of unique modular pipe and fitting based structures for commercial, residential, public works, and industrial applications.
For More Information:
Hollaender Manufacturing
10285 Wayne Avenue
Cincinnati, OH  40285
(513) 772-8800
Fax: (513) 772-8806
www.Hollaender.com
Client Contact:
Leah Weller
Marketing Associate
Hollaender Manufacturing
(513) 772-8800, Ext. 123
Leahw@hollaender.com
Agency Contact:
Jeffry Caudill
President
Gingerquill
(513) 448-1140
JCaudill@Gingerquill.com
Contact This Company Download Spec Sheet
More from Architectural & Civil Engineering Products