Hoist System positions heavy loads in crane applications.
Press Release Summary: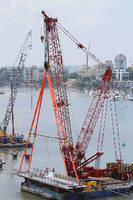 Using one crane, SHS-Series SyncHoist System allows operators to position loads vertically and horizontally, all while ensuring complete safety, speed, and control. Below-the-hook lifting solution is designed with four BTH-1 compliant hydraulic lifting cylinders and is connected directly to suspended rigging. Cylinders come in 60, 94, or 120 ton capacity with strokes ranging from 19.69–59.06 in. Both manual and automatic computer-controlled options are available.
---
Original Press Release:

Enerpac SyncHoist System Provides Safe, Accurate Hoisting and Load Positioning for Crane Applications



SHS-Series SyncHoist System



Menomonee Falls, WI — Enerpac introduces the SHS-Series SyncHoist System, a unique below-the-hook lifting solution for positioning of heavy loads in crane applications. Using just one crane, the SyncHoist System allows operators to easily position loads vertically and horizontally, all while ensuring complete safety, speed and control.



Designed with four BTH-1 compliant hydraulic lifting cylinders, the SyncHoist System is connected directly to the suspended rigging. Cylinders are available in 60, 94 or 120 ton capacity with strokes ranging from 19.69 to 59.06 inches.



The SyncHoist is available with both manual and automatic control options. The manual controls allow the operator to actuate the SyncHoist cylinders using pump-mounted manual valves. The pump is equipped with load readings which display load at each SyncHoist cylinder.



The automatic computer-controlled option provides both position and load feedback. The system is capable of automatically positioning the cylinders with accuracy of +/-0.40" over full stroke. In addition, the system will provide warning alarms should the cylinders exceed the user established parameters for stroke and load.



"Using tandem or multiple crane lifts for positioning of heavy and unbalanced loads can be difficult to synchronize," said Pete Crisci, Global Business Development Leader at Enerpac. "The SyncHoist System provides accurate positioning without the need for multiple cranes, enhancing a crane's capability and significantly improving the overall safety and efficiency of the operation."



For more information on the SHS-Series SyncHoist System, visit enerpac.com.



About Enerpac

Enerpac is an international market leader in high-pressure hydraulics, with 28 offices in 22 different countries and over 1,000 employees. Enerpac produces thousands of high-pressure hydraulic products that are distributed worldwide. Enerpac focuses on the design of products, from the smallest cylinder to complete computer-operated lifting & positioning systems, which increase productivity and make work safer and easier to perform.



About Actuant

Enerpac is wholly owned by Actuant Corporation, a diversified industrial company serving customers from operations in more than 30 countries and is headquartered in Menomonee Falls, Wisconsin. Actuant trades on the NYSE under the symbol ATU. For further information on Actuant and its businesses, visit the Company's website at www.actuant.com.



Inquiries:



Europe, Middle East, Africa, India: Maarten Franken, Global Marketing Communications Leader maarten.franken@enerpac.com Phone 31 318 53 5911 



North and South America: Roberta Moring, Marketing Communications Leader - Americas roberta.moring@enerpac.com Phone 262-293-1655

More from Materials