Hoist Buckets include anchoring D-ring on top handle.
Press Release Summary: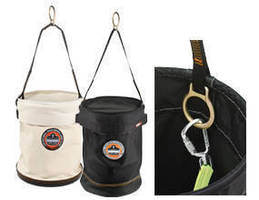 With working capacity up to 150 lb, Arsenal® Hoist Buckets can safely transport tools, supplies, and equipment. Each bucket is equipped with zinc-plated alloy steel D-rings on handle and rim for hoisting, anchoring, and tethering. Measuring 12.5 in. in dia x 15 in. high, buckets are available with 840D Nylon or 20 oz canvas main material and molded plastic or leather base. Additional features include heavy-gauge nylon stitching, interior pocket, and molded plastic top ring.
---
Original Press Release:

Ergodyne Expands Arsenal® Gear Storage Line with Four Innovative Hoist Buckets



St. Paul, Minn. – Ergodyne announced today the expansion of their Arsenal® Hoist Bucket Line to include four new hoist buckets:



Arsenal® 5760 (5760T) Canvas Leather Bottom Bucket with D-ring connections

Arsenal® 5763 (5763T) Canvas Plastic Bottom Bucket with D-ring connections

Arsenal® 5650 (5650T) Synthetic Leather Bottom Bucket with D-ring connections

Arsenal® 5653 (5653T) Synthetic Plastic Bottom Bucket with D-ring connections



Offering the same unmatched durability and strength workers expect from Ergodyne, these hoist buckets include a new anchoring D-ring on the top handle, for more efficient hoisting, as well as enhanced web handles with two D-ring connections for tool tethering.



"Our new hoist buckets deliver on a specific need for at heights workers providing additional connection points on the bucket for tool tethering," said Nate Bohmbach, Ergodyne product manager and DROPS member. "We made our buckets work that much harder for our end users, and we are confident workers and safety managers will see the difference in safety and efficiency."



Each hoist bucket is equipped with zinc-plated alloy steel D-rings on the handle and rim, making for more durable and efficient hoisting, anchoring, and tethering capabilities. With a safe working capacity up to 150lbs (68kg) and patented tops, the new hoist buckets can safely transport everything from lightweight tools and supplies to 150lbs of equipment.



"Our commitment to at heights safety is shown through our perpetual obsession with product enhancements and improvements – even after a product has launched," said Tom Votel, president and CEO, Ergodyne. "We identified a need within some of our key industries and have delivered four unique, durable, all purpose transport buckets that will keep things running smoothly and, most importantly, protect the folks below from raining bolts, wrenches, hammers… you get the picture."



Ideal for workers needing to hoist equipment to an at heights jobsite, the new Arsenal® Hoist Buckets with D-rings are available NOW at all authorized Ergodyne distributors. For more information or to find out where to buy, visit www.ergodyne.com or call 800.225.8238 // +1 651.642.9889.



Key Features:



Zinc plated alloy steel D-ring on handle for hoisting

Zinc plated alloy steel D-rings built into handle ends for anchoring lanyards

840D Nylon or 20oz Canvas Main Material

Molded plastic or leather base

Molded plastic top ring to maintain wide opening for viewing and accessing contents

High tensile strength web handle with leather reinforcement

Heavy-gauge nylon stitching

Interior Pocket

Maximum safe working capacity: 150 lbs (68kg)

Maximum safe tool tether anchor capacity: 20 lbs (9 kg) on each D-ring

12.5" diameter (32cm), 15" height (38cm)



About Ergodyne

Since 1983, Ergodyne has pioneered the development of safety products that Make The Workplace A Betterplace™. What started with just one product has grown into a line of top flight, battle-tested, Tenacious Work Gear®; all precision crafted to provide protection, improve productivity and manage the elements for workers on jobsites the world over. The current lineup is extensive and constantly growing including: Hand Protection, Knee Pads, Supports, Footwear Accessories, Cooling Products, Warming Products, Hi-Vis Apparel, Lanyards, Equipment Storage Systems, Performance Work Wear, Portable Work Shelters, and Head Protection.