Hoffer Flow Solutions Improve System Efficiencies for Power Generation Applications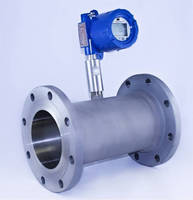 Hoffer Flow Controls provides high accuracy flow measurement for a variety of applications within the power industry including fuel consumption, emissions minimization, balance of plant calculations and general fiscal measurement.



Hoffer Premier Gas Series turbine flowmeters excel in power applications providing advantages to users such as wide flow turndown ranges, multiple rotor blade angles for optimum performance, multiple signal outputs, and significantly lower pressure drop compared to conventional "turbo" flowmeters. NIST traceable gas calibrations with uncertainties to +/-.25% are available. The Premier Gas series uses self-lubricated hybrid ceramic ball bearing for extended operating life and superior performance. 



Hoffer solutions can help you improve system efficiencies, meet compliance requirements and provide accountability for your systems. 



See why the power industry selects Hoffer Flow Controls as the preferred source for outstanding flow controls and accuracy worldwide. Let Hoffer help your plant achieve peak performance.