Hobart Expands Stainless Steel Filler Metal Offering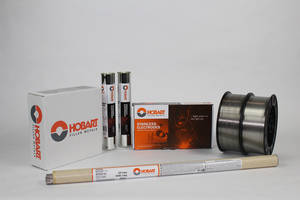 TROY, Ohio. November 23, 2016 - Hobart announced it has expanded its stainless steel filler metal offering as part of a renewed emphasis on this portfolio, adding options in solid wire and flux-cored wire. The comprehensive portfolio of stainless Hobart filler metals also includes stick electrodes and metal-cored wires.
Additions to the Hobart stainless product lineup include solid wires now in bulk packaging, with the ER308LSi and ER309LSi wires in .035- and .045-inch diameters available in 550-pound drums. Hobart has also added three new products to the FabCO® flux-cored stainless steel wire offering: FabCO 308LT1, FabCO 309LT1 and FabCO 316LT1. All three wires are available in .045- and 1/16-inch diameters in 27 1/2-pound, vacuum packaged spools. Changes have also been made to stainless steel stick electrode packaging, which now includes smaller sizes to better reflect customer needs. These stick electrodes offer excellent arc starting and restrikes and, similar to the stainless steel flux-cored wires, provide easy slag release and a smooth bead appearance.
Stainless steel filler metals are increasingly used in numerous industry applications, including food and beverage production and storage, petrochemical and medical applications.
"Stainless steel is the second most common material our customers are welding, behind carbon steel, and we wanted to enhance our offerings to better reflect industry needs," says Jonathan Will, product manager, Hobart. "Just like our other filler metals, our stainless steel offerings are superior products that provide consistent results, with the exceptional arc stability, spatter level and bead appearance."
Hobart is also offering a free stainless steel filler metal brochure for download to help users with their stick electrode and wire selection. To order a hard copy of the brochure, contact Hobart at via their literature request form: Hobart Brothers.com/support/literature-request.html.
About Hobart Brothers Company
Hobart Brothers Company, headquartered in Troy, Ohio, is a leading manufacturer of the innovative Hobart® brand of filler metals, and is a wholly owned subsidiary of Illinois Tool Works, Inc. The ITW Welding brand portfolio also includes Miller® branded welding and cutting equipment.
For more information, visit the Hobart Brothers Company website at www.HobartBrothers.com,
call 1-800-424-1543,
fax 1-800-541-6607,
email hobart@hobartbrothers.com
write Hobart Brothers Company,
101 Trade Square East,
Troy, OH 45373.
Editorial Contact:
Monica DeBrot
Two Rivers Marketing
515-557-2068
More from Material Processing