HMS Received the ISO27001 Certification for eWON® Talk2M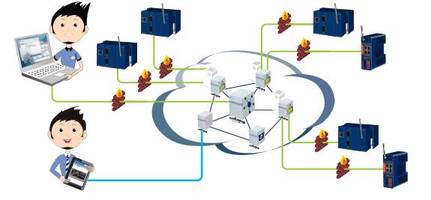 HMS Industrial Networks has obtained ISO 27001 Certification for eWON Talk2M, its award-winning cloud connectivity platform. The ISO 27001 Certification is the international standard that describes best practices for an information security management system (ISMS).
Compliance with the ISO 27001 certification validates that HMS Industrial Networks has implemented comprehensive information security practices to protect their users, their information, and their data in accordance with internationally recognized standards.
The ISO 27001 certification includes the Talk2M infrastructure, data centers and services. HMS Industrial Networks underwent an in-depth assessment by a third-party auditor to validate compliance with the standard. Security has always been a top priority for HMS, and this ISO27001 certification is yet another proof of the company's effective security program.
"We're proud to be internationally recognized as a leader in information security solutions and best practices for the Industrial Internet of Things, IIoT. Through ISO 27001 and other certifications, we continue to ensure that our security controls and practices follow internationally-recognized security standards." says eWON Talk2M Security Manager Geoffrey Gobert and continues; "Data security is critical when dealing with IIoT, and this ISO certification provides our users with the highest level of protection for their most sensitive information."
On the organizational side, HMS Industrial Networks ensures the highest level of attention to security and compliance matters by dedicating staff for continuous prevention and monitoring of security threats, as well as managing strict policies around escalation and rapid response.
Read more on http://www.ewon.biz/security
HMS Industrial Networks
HMS Industrial Networks is the leading independent supplier of products for industrial communication including remote management. HMS develops and manufactures solutions for connecting automation devices and systems to industrial networks under the Anybus, IXXAT and eWON brands.
Development and manufacturing take place at the headquarters in Halmstad, Sweden and in Ravensburg, Germany. Local sales and support are handled by offices in Belgium, China, Denmark, France, Germany, India, Italy, Japan, UK, and USA. HMS employs over 500 people and reported sales of 101 million EUR in 2016. HMS is listed on the NASDAQ OMX in Stockholm.
HMS Industrial Networks Inc
35 E. Wacker Dr, Suite 1700
Chicago , IL 60601 USA
Phone: 13128290601
Fax: 13126292869
us-sales@hms-networks.com
HMS Industrial Networks
Stationsgatan 37
30245 Halmstad
Sweden
www.anybus.com
Michela NALIN
Phone: +46 351729 93
Fax: +46 351729 09
min@hms.se
More from Architectural & Civil Engineering Products