HMIC-Based Integrated Bias Network covers 2-18 GHz applications.
Press Release Summary: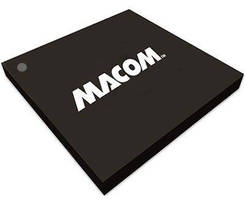 Suitable for DC biasing of PIN diode control circuits, MABT-011000 fully monolithic broadband SMT bias network functions as RF-DC de-coupling network as well as DC return and contains series DC blocking capacitor. Design allows use of DC currents up to 60 mA and DC voltages up to 50 V, and use of HMIC process ruggedizes bias network. At 12 GHz, properties include 0.15 dB insertion loss, 60 dB RF-DC isolation, 34 dB input return loss, and 37 dB output return loss.
---
Original Press Release:

MACOM Introduces Industry Leading Integrated Bias Network Portfolio for 2 - 18 GHz



The integrated bias network features low loss and high performance with exceptional repeatability over a wide frequency range



Lowell, Mass — M/A-COM Technology Solutions Holdings, Inc.  ("MACOM"), a leading supplier of high performance RF, microwave, and millimeter wave products today, announced a fully monolithic broadband surface mount bias network utilizing MACOM's patented HMIC process.



The MABT-011000 is designed for customers who need a rugged HMIC device with low loss and high performance with exceptional repeatability through millimeter frequencies. The large vias reduce inductance and allow customers to easily solder down the part, while the gold backside metallization provides the RF and DC grounding.



The MABT-011000 is suitable for the DC biasing of PIN diode control circuits. It functions as an RF-DC de-coupling network as well as the DC return and contains a series DC blocking capacitor. DC currents up to 60 mA and DC voltages up to 50 V may be used.



"The MABT-011000 greatly simplifies bias networks while delivering low loss and high performance, making this a reliable and efficient fully monolithic broadband surface mount bias network for 2-18 GHz," said Paul Wade, Product Manager. "Utilizing MACOM's patented HMIC process ruggedizes the bias network, which is ideal for the DC biasing of PIN diode control circuits."



The table below outlines typical performance:


| | | |
| --- | --- | --- |
| Parameter | Units | MABT-011000 |
| Frequency Range(RF) | GHz | 2 – 18 GHz |
| Insertion Loss (dB) at 12 GHz | dB | 0.15 |
| RF – DC Isolation (dB) at 12 GHz | dB | 60 |
| Input Return Loss (dB) at 12 GHz | dB | 34 |
| Output Return Loss (dB) at 12 GHz | dB | 37 |



Production quantities and samples of MABT-011000 are available from stock. Final datasheets and additional product information can be obtained from the MACOM website at: www.macom.com.



ABOUT MACOM:

M/A-COM Technology Solutions Holdings, Inc. (www.macom.com) is a leading supplier of high performance analog RF, microwave, and millimeter wave products that enable next-generation Internet and modern battlefield applications. Recognized for its broad catalog portfolio of technologies and products, MACOM serves diverse markets, including high speed optical, satellite, radar, wired & wireless networks, CATV, automotive, industrial, medical, and mobile devices. A pillar of the semiconductor industry, we thrive on more than 60 years of solving our customers' most complex problems, serving as a true partner for applications ranging from RF to Light.



Headquartered in Lowell, Massachusetts, M/A-COM Tech is certified to the ISO9001 international quality standard and ISO14001 environmental management standard. M/A-COM Tech has design centers and sales offices throughout North America, Europe, Asia and Australia.



MACOM, M/A-COM, M/A-COM Technology Solutions, M/A-COM Tech, Partners in RF & Microwave, The First Name in Microwave and related logos are trademarks of MACOM. All other trademarks are the property of their respective owners.



For more information about MACOM, please visit www.macom.comfollow @MACOMtweets on Twitter; join MACOM on LinkedIn, or visit the MACOM YouTube Channel.



DISCLAIMER FOR NEW PRODUCTS:

Any express or implied statements in MACOM product announcements are not meant as warranties or warrantable specifications of any kind. The only warranty MACOM may offer with respect to any product sale is one contained in a written purchase agreement between MACOM and the purchaser concerning such sale and signed by a duly authorized MACOM employee, or, to the extent MACOM's purchase order acknowledgment so indicates, the limited warranty contained in MACOM's standard Terms and Conditions for Quotation or Sale, a copy of which may be found at: www.macom.com/support.



FOR SALES INFORMATION, PLEASE CONTACT:

North Americas -- Phone: 800.366.2266

Europe -- Phone: +353.21.244.6400

India -- Phone: +91.80.43537383

China – Phone: +86.21.2407.1588



MEDIA CONTACTS:

Husrav Billimoria

M/A-COM Technology Solutions Inc.

978-656-2896

Husrav.Billimoria@macom.com



Colin Boroski

Rainier Communications

508-475-0025 x142

cboroski@rainierco.com



Gerlinde Knoepfle

embedded PR

+49 (0)89 64913634-12

gk@embedded-pr.de



Ozzie Billimoria

Senior Marketing Communications Specialist

+1 978 656.2896 office

+1 978 935.6569 mobile

ozzie.billimoria@macom.com



100 Chelmsford Street

Lowell, MA 01851 USA

www.macom.com

Related