HMI Touch Panels support industrial process automation.
Press Release Summary: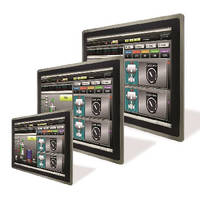 Based on Intel® Core™ i7-4650U processor and equipped with Intel HD graphics, Industrial Process Automation HMI Touch Panels support up to 16 GB dual-channel DDR3L-1333/1600 memory. Fanless units include high-speed Gigabit Ethernet, USB 3.0 ports, and RS 232/422/485 serial ports. Available with 15–24 in. screens, M2M touchscreen systems can display measurements to show not only how plant is working, but simulate different operating modes and find optimal strategy for plant.
---
Original Press Release:

AIS Expands with Industrial Process Automation, HMI Touch Panels for Easy Visualization of Processes, Control and Monitoring for Seamless Integration into Process Automation Systems



AIS's Industry 4.0, M2M & IoT HMI Panels Equipped for Process Automation Applications are used for Water & Wastewater Treatment, Pharmaceutical, Food & Beverage and Automotive Manufacturing Operations



IRVINE, CALIFORNIA – American Industrial Systems, Inc. (AIS) the leader in open architecture, PC-based HMI touch panels, Industrial panel PCs (IPCs), HMI Systems and touch-screen interfaces for a broad range of industrial, commercial and manufacturing industries, now offers their Industrial Process Automation HMI Touch Panels. The new Industry 4.0 HMI, Process Automation touchscreen interfaces and devices from AIS are suited to serve a wide range of Process Automation and control applications including: Chemical Manufacturing, Paper & Cellulose, Metals, Water & Wastewater Treatment, Pharmaceutical, Energy, Food, Oil & Gas, Glass & Solar, Automotive and others. 



A Process Automation System (PAS) is used to automatically control processes such as chemical, oil refineries, paper and pulp factories and food & beverage. The PAS often uses a network to interconnect sensors, controllers, operator terminals/HMIs and actuators. A PAS is often based on open standards in contrast to a DCS (distributed control system), which is traditionally proprietary. However the PAS is considered to be more associated with SCADA systems. As an open platform designer and HMI manufacturer, AIS touchscreens are advanced, powerful and flexible enough for both process and discrete applications in industrial environments.



AIS's Rugged Industrial Process Automation HMIs Help Oil & Gas Operations Achieve Higher Levels of Energy Efficiency While Lowering Overall Production Costs

In Oil & Gas and the petrochemical industry, energy costs can represent 30 to 50% of the total production cost. Factory and plants want their process automation control systems and production equipment to deliver the highest output while utilizing the least amount of energy. AIS's Process Automation HMI Touch Panels are energy efficient devices utilizing the latest Intel processor technologies and a fan-less construction to help achieve energy reduction goals. Reducing energy is only part of the equation in lowering overall production costs for customers. They also help industrial process facilities lower costs by reducing maintenance and service costs. A fully modular, scalable design and construction in their new family of intelligent HMI touch panel solutions means an easy and cost-effective upgrade path is available. Finally, this new series of HMIs offer "no moving parts" as they utilize Solid State hard drives. With fewer components to fail, this means higher reliability and higher uptime, which translates into higher profits.



Determining Operating Modes and Optimal Plant Strategies are executed with AIS's Industrial Touchscreen HMI Displays & Third Party Software

AIS's Industrial Process Automation HMI touch panel interfaces are optimized to meet any human machine interface needs using open and standardized interfaces, which allows for efficient integration into Process Automation Systems. AIS's robust, M2M touchscreens help display measurements to show not only how the plant is working, but simulate different operating modes and find the optimal strategy for the plant. Combined with third party SCADA software, AIS's HMI's become a powerful SCADA control and monitoring system and have the ability to learn and predict trends – helping speed up the response time to changing conditions. Predictive maintenance is another way that AIS's industrial HMI touch panels reduce maintenance costs and planned downtime, while improving productivity and performance in process manufacturing applications. AIS control, monitoring and visualizations solutions regulate process automation equipment. Running at the optimum speed with less energy consumed, they help ensure the quality consistency. The less energy consumed producing products that are defective also equates to additional energy savings. AIS Industrial Process Automation Touch Panel HMIs forecast when maintenance is needed, so less time and energy is spent stopping and restarting equipment for routine inspections. This all adds up to lower energy consumption and costs thereby improving a process plants' overall bottom line.



AIS Industry 4.0 Industrial Touchscreen Displays Meet Key Regulatory Control & Certifications for Process Automation Applications

AIS control and visualization solutions help manufacturers in highly complex, process control and automation operations and enhance operating efficiency. Some of these complex operational demands include model predictive control, advanced supervisory control, advanced regulatory control and knowledge-based control. Just as important, process industries typically have to comply with strict regulatory control and certifications. AIS's completely flush stainless steel fronts with IP66/NEMA 4/4X ratings, compact and rugged aluminum system enclosures with high temperature, vibration, shock and EMC resistant, make them suitable for a variety of harsh and demanding environments.



AIS Rugged Process Control HMIs Ensures Improved Plant Safety and Optimal Access to Process Information in Hazardous Areas with Large Screen Format Touchscreen Displays

AIS's intelligent series of HMI Touch Panels which offer 15" to 24" display screen sizes with single and multiple touch, projected capacitive touch (PCT or PCAT) and wide screen model options, make control and monitoring easier for operators in process control and automation environments. The additional screen space facilitates complex visualizations in large plants and enables the display of additional information. The need for scrolling or switching between pages is not required with AIS's range of large touchscreen displays. The high quality and contrast of AIS's ultra-bright touchscreen displays makes all process information easily and clearly recognizable for users which improve operator productivity and safety.



AIS Industrial HMIs Serve a Broad Range of Process Control Applications from Small Laboratory Automation Systems to Large-Scale Manufacturing Plants

Platform-independent, scalable and sustainable HMI solutions from AIS allow customers to enjoy greater efficiency, reliability and predictability on the plant floor while expanding their systems. AIS scalable and modular industrial touch panels make it possible to cover every area of a process automation system application. Their in-house, engineering and development team provides support to customers throughout the system's entire life cycle – from planning, library creation and configuration to commissioning and operation. Seamless integration and intuitive operation reduce setup times and ensure the highest level of machine and system productivity while providing flexibility for product changeovers.



AIS's M2M, Industrial IoT Premium, Standard and Compact Series of touchscreens tout great versatility, flexibility and high-speed computing performance via its impressive range of features and specs. They offer many powerful features that will leverage the expected growth and future opportunities in the Process Automation market. Key features include:

• Extremely Fast System Response: High performance computing with Intel® Core™ i7-4650U processor (4M Cache, up to 3.30 GHz), high memory bandwidth with dual-channel DDR3L-1333/1600 (25.6 GB/s, up to 16 GB), Intel HD graphics supports DirectX 11.1, OpenCL /GL, and 4K videos Quick Sync encoder, high-speed Gigabit Ethernet & USB 3.0 ports, and highly flexible RS 232/422/485 serial ports.

• High System Availability & Data Security: RAID 1 system supports with onboard RAID controller & two externally accessible SSD removable enclosures, and an internal non-volatile m-SATA SSD.

• Highly Reliable Touchscreens & Long Lasting Displays: Operationally tested to 35 million touches in one location without failure, touch screen positional accuracy standard deviation error is less than 0.080 (2mm), and maintenance-free illumination system lifetime rated at 80,000 to 100,000 hours in Eco mode.

• Scalable, Modular, & Expandable System: Brilliant touch displays from 15" to 24", widescreen displays with multi-touch capability, field-replaceable front displays and box IPCs, an externally accessible PCIe slot & two removable SSD storage enclosures, and 24 V DC (9.6 V to 28.8 V) isolated industrial power supply.

• Rugged & Zero Maintenance System: Completely flush stainless steel fronts with IP66/NEMA 4/4X ratings, compact and rugged aluminum system enclosures; high temperature, vibration, shock, & EMC resistant; fan-less operation up to ambient temp of 50 °C, highly reliable power and I/O ports include isolation protection.

• Comprehensive Operating System Software & Services: Supports embedded x86 platform, x86-optimized operating systems and development; Pre-installed Windows Standard 7 Embedded or Ultimate 64-bit, Windows Embedded 8.1 Industry, 8.1 Pro or 8 Standard.

• Single Touch & Multi Touch-Screens Wide Screens Interfaces Options: The Premium line of HMIs ranges from 15" to 24" screen sizes with single and multiple touch, projected capacitive touch (PCT or PCAT) wide screen model options. Multi-touch screen displays are available in 15.6", 18.5" and 21.5".



About AIS

Headquartered in Irvine, California, USA, American Industrial Systems, Inc. (AIS) offers in-house electronic and mechanical design, software development, manufacturing, production and quality control services. Offering one of the widest ranges of industrial computing solutions, AIS solutions are available in a multitude of configurations for industrial, oil & gas, military and marine applications. The company is fully committed to empowering, improving and delivering turnkey HMI, monitoring and display solutions for OEM, ODM and end-user customers. AIS is an ISO 9001:2008 certified supplier and manufacturer of rugged computers and displays, and received completion of the International Traffic in Arms Regulations (ITAR) registration from the Directorate of Defense Trade Controls (DDTC). For more information, visit: www.aispro.com, email: sales@aispro.com or contact: 1-888-485-6688.

 

Media Relations Contact:

American Industrial Systems, Inc.

David G. Martorana

Marketing & Public Relations

1.847.630.6487 or dynmarent@gmail.com









More from Machinery & Machining Tools