HMI Touch Panel PCs include battery backup module.
Press Release Summary: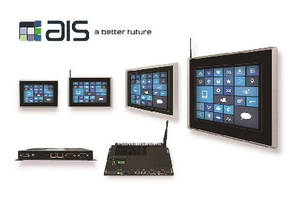 Powered by Intel® Celeron® N2930 processor engine, Compact HMI Touch Panel PCs offer solution for mission-critical automation and industrial control applications. Battery backup power module provides automatic back-up during power outages, temporary disruptions, and/or system failure. Supplied in rugged, aluminum die-cast housing, series offers touchscreens ranging from 7–21.5 in. with some models available in both single and/or multi-touch screens.
---
Original Press Release:

AIS's Panel PC Family Features Built-In Uninterruptible Power Source to Protect HMI Systems from Unexpected Power Outages, Disruption to Productivity and/or Loss of Data



AIS Releases Compact HMI Panel PC Series Featuring an Innovative Automatic Battery Backup Power Module Provides for Mission-Critical Automation and Control Applications



IRVINE, CALIFORNIA – American Industrial Systems, Inc. (AIS) the leader of open architecture, Industrial HMIs, Touch Panel Computers, Industrial PCs (IPCs), Industrial Box PCs, Industrial DIN-Rail PCs, and Industrial Thin Clients, releases their family of Compact HMI Touch Panel PCs with an automatic battery backup power module for automatic back-up during power outages, temporary disruptions and/or systems failures. As the company who was first to bring and incorporate multi-touch technology to industrial touchscreens, AIS again is an innovator and leader, as the first HMI Company to incorporate a built-in, automatic battery backup module as a standard in their family of Industrial panel PCs. The backup power modules have an automatic transfer switch, which helps keep HMI systems and network devices up and running from electrical power disruptions. In plants and facilities, disruptions or outages can range from a few minutes to an hour in the event of a power failure, as well as surges and spikes.



The built-in automatic battery backup power module in AIS's Compact family of Touch Panel HMIs significantly lowers the risk of downtime associated with power interruptions. This helps keep key automation equipment in facilities operating at full capacity and the highest levels of productivity and efficiency. AIS's Compact Series of Touch Panels are designed for critical networking and control applications such as human machine interfaces (HMIs) and supervisory control and data acquisition (SCADA) systems and other control, automation, information and communications applications.



AIS Compact HMI Panels with Integrated Automatic Battery Backup Module Helps Companies Minimize Losing Thousands of Dollars from Power Outages and Disruptions

Even with the extensive efforts and great sums of money invested by manufacturing companies in conditioning and cleaning their electrical power, they still experience multiple power outages, surges, spikes and other forms of power disruptions every year. It is commonly understood when the power goes out at a manufacturing facility or plant, production comes to a halt. A production line stopping severely and adversely affect productivity, profits, deliveries and other KPIs for companies. Even brownouts or momentary losses of power can cause downtime, waiting a few minutes or more for network or control equipment needing to restart, costing companies thousands of dollars per power interruption.



A simple way to think about the utility of a UPS unit is to consider how a notebook computer is not affected from a power outage as it has internal battery. With a computer or laptop that is plugged into an appropriate surge protection strip, if storm causes a power outage or disruption in the area, while lights, appliances and other electronics will shut off, the notebook computer is uninterrupted because the notebook switched over to battery power seamlessly when the flow of electricity from the power cord vanished. You can now continue to work or shut down your machine.



The Compact Series of Industrial Panel PCs from AIS Combine a Rugged, Aluminum Die-Cast Housing, Open Platform HMI and UPS for a Robust & Reliable Solution

The integral UPS now available with the Compact Line of HMIs from AIS is just one of the many great standout features of the powerful Compact HMI series. Powered by an Intel® Celeron® N2930 processor engine which are specifically designed for industrial machinery, intelligent, web-based and smart HMI applications, the AIS Compact Series of HMIs are designed to work within a wide range of thermal conditions. This make the Compact Series a highly desirable solution for industrial control applications. The Compact line of open architecture, PC-based HMIs come in touchscreens ranging from 7" to 21.5" displays with some models available in both single and/or multi-touch screens.



AIS Compact HMI's Integral UPS Reduces Issues for Manufacturing Companies Caused by Common Electrical Problems and Service Disruptions

There are many causes of power failures in an electricity network. Examples of these causes include faults at power stations, damage to electric transmission lines, substations, or other parts of the distribution system, a short circuit or the overloading of electricity mains. Computer systems and other electronic devices such as HMIs contain logic circuitry that may be susceptible to data loss or hardware damage that can be caused by the sudden loss of power. To protect against this, AIS has employed the use of an uninterruptible power supply or UPS in their Compact line of HMIs to provide a constant flow of electricity if a primary power supply becomes unavailable for a short period of time.



About AIS

Headquartered in Irvine, California, USA, American Industrial Systems, Inc. (AIS) offers in-house electronic and mechanical design, software development, manufacturing, production and quality control services. Offering one of the widest ranges of industrial computing solutions, AIS open platform control and monitoring solutions are available in a multitude of configurations for industrial, building automation, oil & gas, military and marine applications. The company's HMI solutions are key enabling technologies for the Internet of Things (IoT), Industrial Internet of Things, (IIoT), Machine-to-Machine Communications (M2M) and Industry 4.0 applications. AIS is fully committed to empowering, improving and delivering turnkey HMI, control, monitoring and display solutions for OEM, ODM and end-user customers. AIS is an ISO 9001:2008 certified supplier and manufacturer of rugged computers and displays, and received completion of the International Traffic in Arms Regulations (ITAR) registration from the Directorate of Defense Trade Controls (DDTC). For more information, visit: www.aispro.com, email: sales@aispro.com or contact: 1-888-485-6688.



Media Relations Contact:

American Industrial Systems, Inc.

David G. Martorana

Director Marketing & Communications

1.847.630.6487 

dynmarent@gmail.com

More from Printing & Duplicating Equipment