HMI Software supports Pocket PC.
Press Release Summary: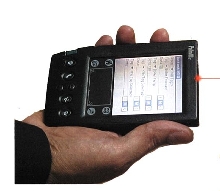 InstantHMI software supports Pocket PC 2002, Pocket PC 2000 and Palm OS handheld platforms. It has drivers for Modbus TCP and wireless RF using IEEE 802.11b protocol, and can use infrared link for data transfer to/from controller. Data may be logged in handheld at specified sample times, and transferred to desktop PC for analysis in Microsoft Excel. InstantHMI allows user to define and store recipes in handheld and transfer them to controllers.
---
Original Press Release:
InstantHMI(R) Provides Wireless IR, RF and Ethernet Connectivity for Controllers; Supports IRDA and IEEE 802.11b Standards

Software Horizons is pleased to announce that InstantHMI software is now available to support the Pocket PC 2002 platform, in addition to Pocket PC 2000 and a range of Palm OS handheld platforms. The latest version of InstantHMI provides additional drivers including Modbus TCP and wireless RF connectivity using the IEEE 802.11b protocol standards.

InstantHMI can use an infrared link for data transfer to / from the controller. Simply beam the compatible Pocket PC or Palm handheld at any controller IR port. There is no need for a wired cable connection and the controller cabinet door may remain closed. An IR-kit is available from Software Horizons to convert the controller serial port into an IR port. RF connectivity is available for several controllers using IEEE 802.11 b standard devices on the market (such as Compact Flash radio links, Ethernet access points etc.

InstantHMI installed in the handheld makes configuration, diagnostic, trouble shooting and data logging tasks for your controller equipment as simple as possible. The compact shirt pocket size of the Palm or Pocket PC and the IR and RF capability incorporated in InstantHMI, provide for the greatest mobility and make InstantHMI available 'anytime, any place' as a human machine interface.

Controller data tags may be given convenient names and grouped in functional groups for easy access to relevant tags from a large tag database using the InstantHMI Tag Manager.

Numeric information from controllers can be displayed as meaningful text Messages defined by you. InstantHMI Message feature is useful for meaningful Reason Codes, On/Off or other I/O states, or any other number which is best represented as text. Numeric information may be displayed and/or input in the latest version of InstantHMI using graphical OI-WidgetsTM such as LEDs, Buttons, Spinners etc.

InstantHMI allows you to define and store hundreds of recipes in the handheld and transfer them from / to controllers. Recipes may be used in batch processes as well as for machine configuration, which allows for fast restoration of a controller to a known good state.

Data may be logged in the handheld at specified sample times and reviewed later in the handheld. Datalog data may be transferred to a desktop PC for Historic Trending or other analysis using Microsoft Excel. While data logging is in progress, you may add / remove tags from the data log.

InstantHMI allows tags, messages and recipes to be created directly on the handheld. This task is made easier and more convenient using InstantHMI Desktop software on your Windows PC. Any InstantHMI logged data in the Palm or Pocket PC can be transferred to your desktop PC using the HotSync or ActiveSync process. The transferred data is in a delimited (CSV, Tab etc.) format for easy import into Microsoft Excel or other software. The logged data may also be viewed and printed from the InstantHMI Desktop software.

InstantHMI runs on Pocket PC 2002 devices (running Windows CE 3.0 or higher operating systems) such as Compaq iPaq and compatibles and on several Palm OS devices (running Palm OS 3.5 or higher). InstantHMI supports a wide variety of controllers including: Allen Bradley, GE/Fanuc, Idec, Matsushita, Mitsubishi, Modicon, Omron, Siemens, Toshiba, Watlow, Westinghouse and others.


More from Electronic Components & Devices