HMI/SCADA Software targets machine level applications.
Press Release Summary: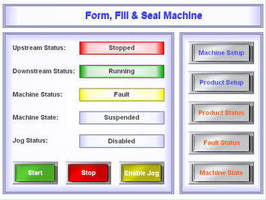 Offering compilation of pre-configured graphic objects and screens as well as integrated workspace toolbar, OEM Solutions Pack for Proficy® iFIX 5.0 accelerates iFIX application development and enables duplication across many devices and/or machines for consistency and implementation of data standards, such as OMAC. Trending components and pre-built screens are designed for touch screen operation and enable troubleshooting and in-depth visualization of machine data on plant floor.
---
Original Press Release:

OEM Solutions Pack for Proficy® iFIX 5.0 Released By GE Fanuc Intelligent Platforms Accelerates Development, Reduces Costs and Streamlines Operations



Driven by end user requirements, new solution offers machine builders a sustainable advantage in global economy where speed to solution is critical

Charlottesville, VA, August 4, 2009 GE Fanuc Intelligent Platforms, a unit of GE Enterprise Solutions, today released its new OEM Solutions Pack for Proficy® iFIX 5.0, the company's award-winning HMI/SCADA software. The new offering is a compilation of pre-configured out-of-the-box graphic objects and screens specifically tailored to machine level HMI/SCADA applications. The components, along with an integrated workspace toolbar and screen templates, accelerate iFIX application development and make it easy to duplicate across many devices and/or machines for ease of integration, consistency of operation, and implementation of data standards, like OMAC.

Menu driven configuration development enables rapid configuration of pre-developed screens for OEMs. Specific tools, dynamos, machine and line-level pre-developed screens, including OMAC templates, will provide consistency across machines, enabling reduced engineering time, faster training and an easier learning curve. Developers can take advantage of the out-of-the-box components as a starting point or customize them to solve a specific problem while maintaining the ease of use for the operators. The trending components and pre-built screens are specifically designed for touch screen operation and enable quick troubleshooting and in-depth visualization of machine data on the plant floor, and with web-client capability in any environment.

"With the ongoing global recession, speed to solution is critical as it translates to real dollar savings," said Linda Onnen, GE Fanuc Intelligent Platforms' Market Director, Consumer/OEM. "OEMs constantly look to reduce their development costs because every dollar saved makes them more competitive. And, with industry standard data models, OEMs are able to provide a faster connection to the information system existing in their customer's facility delivering immediate value."

To address the specific needs of integrating equipment on the plant floor this product adopts OMAC standards. Benefits include:

o Shorter machine development cycle

o Faster integration

o Standardized program structure

o Consistency in machine operation

o Increase in machine features

o Ease of machine upgrade

o Increased breadth of machine offerings

o Protection of intellectual property

The OEM Solutions Pack includes a variety of machine performance screen templates and dynamos tailored to provide easy to use and understand metrics that will support Lean and Six Sigma initiatives. This functionality, along with the base HMI/SCADA control screens, will quickly and easily provide machine level monitoring at a very low cost to the end customer. OEMs can streamline project schedules, enable easy maintenance and deliver repeatable professional-looking systems.

Proficy iFIX offers a robust SCADA engine, rich set of connectivity options, open architecture and highly scalable and distributed networking model. Used in a variety of applications across diverse industries, it is ideally suited for applications as simple as typical HMI applications such as manual data entry and validation to very complex SCADA applications like batching, filtration and distributed alarm management. It also complies with industry standards-making it ideal as part of more IT-focused real time data management system.

For more information www.gefanuc.com/oempack .

Proficy is a registered trademark of GE Fanuc Intelligent Platforms. All other trademarks are the property of their respective owners.

About GE Enterprise Solutions

GE Enterprise Solutions elevates customers' productivity and profitability with integrated solutions using sensors and non-destructive testing; security and life safety technologies; power system protection and control; and plant automation and embedded computing systems. Enterprise Solutions' high-tech, high-growth businesses include Sensing & Inspection Technologies, Security, Digital Energy, and GE Fanuc Intelligent Platforms. The business has 17,000 problem-solving employees in more than 60 countries around the world.

About GE Fanuc Intelligent Platforms

GE Fanuc Intelligent Platforms, a joint venture between General Electric Company (NYSE: GE) and FANUC LTD of Japan, is an experienced high-performance technology company and a global provider of hardware, software, services, and expertise in automation and embedded computing. We offer a unique foundation of agile, advanced and ultra-reliable technology that provides customers a sustainable advantage in the industries they serve, including energy, water, consumer packaged goods, government & defense, and telecommunications. GE Fanuc Intelligent Platforms is a worldwide company headquartered in Charlottesville, VA and is part of GE Enterprise Solutions. For more information, visit www.gefanuc.com.

For more information contact:

Ian McMurray

GE Fanuc Intelligent Platforms

t: +44 (0) 1327 322821

e: ian.mcmurray@gefanuc.com

Elli Holman

GE Fanuc Intelligent Platforms, Public Relations Manager

t: +1 508 698 7456

m: +1 508 298 8306

e: elli.holman@gefanuc.com