HMI Panel PCs and Monitors feature sunlight readable display.
Press Release Summary: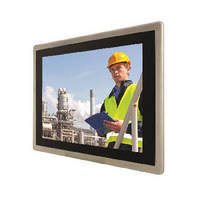 Available with 15 in. optically bonded LCD, Sunlight Readable HMI Panel PCs and Industrial Displays feature 600 nits brightness, contrast ratio of 700:1, 1024 x 768 XGA resolution, and full-color touch panel. Units are constructed with sealed stainless steel NEMA 4/4X, IP65/66 enclosure and are intrinsically safe for hazardous locations. Operating from -4 to 120°F, products are suited for outdoor applications such as offshore drilling platforms, petrochemical plants, mines, and flour mills.
---
Original Press Release:

AIS Daylight Readable HMI Panel PCs & Industrial Monitors Feature High Brightness Displays and Wide Operating Temperature Range for Outdoor Applications



AIS Sunlight HMIs Are Ideal for Outdoor Applications Such As Fixed Offshore Drilling Platforms, Petrochemical Plants, Shale Gas, Mines, Flour Mills and More



IRVINE, CALIFORNIA – As a leader in the engineering, design and manufacturing of ruggedized, HMI panel PCs, industrial monitors and displays, American Industrial Systems, Inc. (AIS), introduces their "Sunlight Readable" Human Machine Interface (HMI) Panel PCs and Industrial Displays. The new sunlight readable 15" display with optically bonded LCD options from AIS is a high brightness (600 nits), high-contrast ratio (700:1), and full-color touch panel. Designed for installations outside a typical factory and industrial facility, the ruggedized stainless steel construction of AIS operator interfaces make them ideal for applications with extreme temperature ranges and challenging outdoor conditions. AIS displays are capable of withstanding operating temperatures ranging from -20 to 60C (-4 to 120F).



AIS High Brightness HMI Displays Facilitate Operator Productivity & Safety

In some outdoor applications such as petrochemical, oil and gas refinery operations or oil drilling rigs and platforms, sun light makes machinery and equipment with monitors and displays much more difficult to control and operate. Viewing and operating this equipment can be impaired by lighting conditions which will then have adverse effects on operator productivity and safety. Depending on geography, outdoor temperatures and weather conditions can range from the hot burning sun to artic weather with subzero freezing temperatures.  HMIs and operator interfaces can also be subjected to other harsh elements such as sea water, high humidity, constant rain or snow.  AIS high brightness and rugged HMI panel PCs and operator interfaces have been engineered to withstand and deliver high performance and safety in all weather conditions and environments.



AIS Ruggedized HMIs and Operator Interfaces Feature Intrinsically Safe Technology

"Intrinsic safety" is considered to be one of the safest forms of protection and electrical safety, used for lower voltage equipment such as HMIs and industrial monitors and displays.  In hazardous area applications, operator safety is a top priority. The AIS 15" Intrinsically Safe Panel PC and Monitor can be used directly in Class I Division 2, Zone 2 without the need for special measures such as complex and expensive enclosures or additional certification processes.



AIS Rugged HMIs Are Tested to MIL-STD-810 for Extreme Conditions, Shock, Vibration, Humidity, Rain, Dust and Sand-Resistance

Harsh and extreme conditions encountered while exploring for fossil fuels and oil production is problematic for drilling equipment, and even more so for sensitive electronics, control and monitoring equipment.  The AIS 15" 1024 x 768 XGA operator interface panel and industrial monitor for hazardous areas are constructed completely with sealed stainless steel type 4/4X, IP 65/66, NEMA 4/4X enclosure with environmental ratings (UL 50 or IEC 529) on the entire system including fully sealed I/O ports. The totally sealed stainless steel enclosure, sealed I/O from particles, water, and corrosive agents to providing 360 degree protection.  AIS rugged displays are also tested to DNV standard methodology for a range of extreme conditions including temperature, humidity, vibration, EMC compatibility and enclosures.  The 15" Hazardous Area Panel PC comes with pre-installed Windows Embedded or Linux operating system; and is powered by high-performance and low power consumption (TDP 3.5W) Intel® Atom™ N2600 1.6 GHz processors in fan-less, industrial-grade, LCD flat touch screen panels.



Controlling and Monitoring Automation Equipment at Industrial Plants, Oil & Gas Refineries, and Oilfield Equipment & Services

Hazardous areas and classified locations at petrochemical plants, mines and flour mill operations demand HMI solutions that can deliver the ultimate in safety, performance and reliability, while withstanding some of the most demanding conditions and the harshest environments known. AIS offers UL Class I Division 2 (Class 1 Div 2), Groups A, B, C, D, T4, ATEX 94/9/EC Zone 2, and IECEx Zone 2, Ex "nA" and Ex "ic", T4 certification on its 15" Hazardous Areas Panel Computer and Hazardous Locations (Hazlocs) Industrial Display which are primarily designed for the volatile and harsh environments of oil, gas, and petrochemical manufacturing industries; oilfield equipment & services, drilling systems automation, drilling control rooms, machinery control systems, pipeline monitoring and control, pipeline control room, refinery process operator control panel, upstream, midstream and downstream automation, remote monitoring and control panel applications that provide accurate, economical, intuitive and user-friendly systems control, operation and monitoring.



AIS HMI Panel PCs Provided Improved Flexibility & Agility for the Oil & Gas Industry

In the Oil & Gas industry, companies need to react to changing needs and requirements with incredible speed and agility.  From solving drilling problems, to facilitating new processes and procedures, to dealing with new conditions on an oil rig, control and monitoring equipment has to be up to all the tasks at hand. Flexibility is the key to successfully reacting to demands and AIS visualization solutions help operators quickly and efficiently operate, monitor and execute all the tasks required. AIS advanced HMIs offer:

• Open Platform Enables Machine-to-Machine (M2M) and Internet of Things (IoT) applications

• Open design with embedded Windows Embedded and Linux system for maximum system flexibility, operation,  programmability and sustainability

• The versatility and flexibility  to connect to any SCADA, PLC hardware, larger client-server architecture or virtualization scheme

• Flexible mounting and work station options to fit into any location or application offshore or onshore

• Human asset maximization by providing intuitive, easy to use HMI hardware solutions, including multi-touch (PCT or PCAT) technology



Regulatory Compliance

• UL Listed to Safety Standards: ANSI/ISA 12.12.01, 2012, Nonincendive Panel PC for Use in Class 1, Division 2 Groups A, B, C, D Hazardous (Classified) Locations and CAN/CSA C22.2 No. 213-M1987 for Use in Class 1, Division 2 Hazardous Locations: UL File # E365958

• UL Listed to Safety Standards: UL 60950-1 and CSA C22.2 No. 60950-1-07: UL File # E320439

• CE Ex Marked to Safety Standards: Explosive Atmospheres (ATEX)-Directive 94/9/EC-Complying with the Essential Health and Safety Requirements that relate to the design of Zone 2 Category 3 Panel PC, certified to ATEX Protection Classes- "CE Ex mark" II 3 G Ex nA ic IIA T4

• Compliance with the Essential Health and Safety Requirements has been assured by Compliance with IEC 60079-0, IEC 60079-11, and IEC 60079-15

• Compliance with IEC 61850 standard for optimized substation automation applications in the energy and utility industries, designed to meet challenging substation IEC 61850-3, IEEE-1613, IEC/TS 61000-5-6, IEC 60068-2-64, and IEC 60068-2-2 compliance standards for shock and vibration resistance, EMI, and wide temperature



About AIS

Headquartered in Irvine, California, USA, American Industrial Systems, Inc. (AIS) offers in-house electronic and mechanical design, software development, manufacturing, production and quality control services. Offering one of the widest ranges of industrial computing solutions, AIS solutions are available in a multitude of configurations for industrial, oil & gas, military and marine applications. The company is fully committed to empowering, improving and delivering turnkey HMI, monitoring and display solutions for OEM, ODM and end-user customers. AIS is an ISO 9001:2008 certified supplier and manufacturer of rugged computers and displays, and received completion of the International Traffic in Arms Regulations (ITAR) registration from the Directorate of Defense Trade Controls (DDTC). For more information, visit: www.aispro.com, email: sales@aispro.com or contact: 1-888-485-6688.



Media Relations Contact:

American Industrial Systems, Inc.

Santiago Consunji

Business Development and Marketing Manager

Call: 1-949-681-7468 

Email: santiago.consunji@aispro.com

Related