HMC8205BF10 Power Amplifier is integrated with DC blocking capacitors.
Press Release Summary: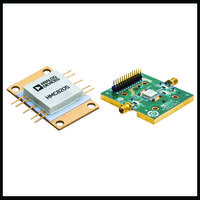 HMC8205BF10 GaN Power Amplifier is suitable for military jammers, wireless infrastructure and radar applications. Units deliver +45.5 dBm with 35% PAE across 0.3 GHz to 6 GHz bandwidth. Amplifier feature 28 dB of small signal gain, 20 dB of power gain for Psat and gain flatness of ± 2 dB. Product is operated on 50 V of supply voltage at 1300 mA and comes in 10-lead LDCC package.
---
Original Press Release:
Richardson RFPD Introduces New 0.3 GHz to 6 GHz, 35 W, GaN Power Amplifier from ADI
Delivers +45.4 dBm (35 W) with 35% power added efficiency
Richardson RFPD, Inc. announced today the availability and full design support capabilities for a new GaN power amplifier from Analog Devices, Inc.
The HMC8205BF10 delivers +45.5 dBm (35 W) with 35% PAE across an instantaneous bandwidth of 0.3 GHz to 6 GHz. No external matching is required to achieve full band operation, and no external inductor is required to bias the amplifier. Integrated DC blocking capacitors for the RFIN and RFOUT pins are included.
The new GaN PA is suitable for pulsed or continuous wave applications, including military jammers, wireless infrastructure and radar, as well as general-purpose amplification.
Additional key features of the HMC8205BF10 include:
Power gain for PSAT: 20 dB
Small signal gain: 28 dB
Gain flatness: +/- 2 dB
Supply voltage: VDD = 50 V @ 1300 mA
Package: 10-lead LDCC
An evaluation board for the new device is also available. To find more information, or to purchase this product today online, please visit the HMC8205BF10 webpage http://www.richardsonrfpd.com/Pages/Product-Details.aspx?productId=1229365&utm_campaign=ADI-HMC8205BF10. The device is also available by calling 1-800-737-6937 (within North America); or please find your local sales engineer (worldwide) at Local Sales Support http://www.richardsonrfpd.com/content/english/contactus/Pages/SalesSupport.aspx. To learn about additional products from ADI, please visit the ADI storefront webpage http://www.richardsonrfpd.com/content/english/aboutus/Pages/Suppliers-Storefront.aspx?supplierId=1072
About Richardson RFPD
Richardson RFPD, an Arrow Electronics company, is a global leader in the RF and wireless communications, power conversion and renewable energy markets. It brings relationships with many of the industry's top radio frequency and power component suppliers. Whether it's designing components or engineering complete solutions, Richardson RFPD's worldwide design centers and technical sales team provide comprehensive support for customers' go-to-market strategy, from prototype to production.
More information is available online at www.richardsonrfpd.com.
More from Packaging Products & Equipment