HMC can machine five ton parts measuring 5 x 6 ft.
Press Release Summary: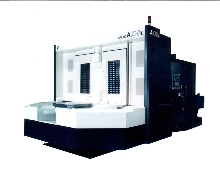 A100E Horizontal Machining Center weighs 66,000 lbs, has footprint of 212 x 394 in., and can handle parts measuring 74.8 x 59.1 in. and weighing up to 11,000 lbs. X, Y and Z-axis travel is 66.9 x 53.1 x 55.1 in., respectively, and cutting feedrates and traverse rates are 1,970 in./minute. Acceleration is 0.4G. It takes tools up to 11.1 x 23.6 in.
---
Original Press Release:
A100E From Makino Introduced

The Largest Makino A-Series HMC Brings Top Performance to Large Part Production

MASON, OH-December, 2001-There is just one word for the Makino A100E horizontal machining center (HMC). huge! The A100E has an over 80-percent larger footprint than other Makino horizontal machining center at 212" w x 394" d (5,385 mm x 10,005 mm). It is also 20-percent heavier than any other Makino A-Series machine, weighing in at a very stable 66,000 lbs. (30,000-kg) which assures stability for high performance machining requirements.

The A100E has an extremely large X, Y and Z-axis travel of 66.9" x 53.1" x 55.1" (1,700 x 1,350 x 1,400 mm). The pallet size of 39.4" x 39.4" (1000 mm x 1000 mm) can handle a load of 6,600 lbs. (3,000kg), with an option for 11,000 lbs. (5,000 kg). The A100E can accommodate a workpiece as large as 74.8" h x 59.1" d (1,900 mm x 1,500 mm)!

Cutting feedrates and rapid traverse rates are quick at 1,970 ipm (50m/min). The acceleration performance is fantastic for a machine of this size at 0.4G. The A100E comes standard with Makino GI control feature that allows for high feed rates. Makino's GI software predicts and accommodates for machine dynamics, and provides previously unattainable feed and accuracy for large parts.

It can handle a maximum tool size of 11.1" x 23.6" (300 x 600 mm), and is ideally suited for large vehicle part manufacturing that needs maximum performance. This includes large diesel engine blocks and structural aerospace components.

A 50 taper tool interface with a 40-tool magazine capacity is standard on the A100E. An HSK-A100 spindle interface is an available option, as are 90, 132, 188, 244 and 302 tool storage options. And, the spindle speed range is from 20 to 10,000 rpm, with an automatic tool-to-tool change time of 1.7 seconds and a chip-to-chip time of 5.5 seconds. Makino A-Series Features The highly rigid bed of the A100E allows the use of a three-point leveling system and assures precise squareness and straightness in every axis, even when loaded with the heaviest allowable workpieces or during movement. A rear mounted electrical enclosure and maintenance platform facilitates routine preventative maintenance, even on a machine this large.

On a machine of this size, Makino has incorporated all of the industry-leading A-Series horizontal machine technologies. Makino's advanced spindle core cooling system circulates a large volume of temperature controlled cooling oil through the center of the spindle to cool it directly from the inside. Additionally, with under race lubrication, cooling oil flowing through the spindle is circulated through holes in the inner bearing races to lubricate the bearings. The adoption of this cooling and lubrication technology combined with core-cooled ball screws makes it possible to achieve greater rigidity, enhanced accuracy and faster machining speeds.

A center trough positioned directly under the table allows for efficient chip removal, even in dry machining conditions. The scraper conveyor in the trough efficiently evacuates all chips and coolant outside the machine. Fine chips are also efficiently handled by the second layer conveyor and drum filter.

The A-Series machining centers are Makino's answer to high-productivity machining for a wide range of components. With high metal removal rates, fast feedrates, greater accuracy, greater stability and increased overall productivity, Makino's machining centers provide demonstrably higher quality, shorter time-to-market, and the flexibility to meet changing production volumes, shorter part life cycles and reduced machining costs.
More from Material Handling & Storage