HMC and Manufacturing System share single 31.5 sq in. pallet.
Press Release Summary: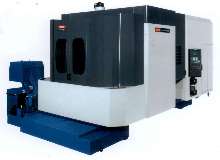 Palletech® Manufacturing Cell integrates FH-8800 Horizontal Machining Center (HMC) with Integrex e-1060V8. Palletech System's Flexible Manufacturing System CPU also allows up to 8 machines of more than one type to be used in same cell. HMC has 50 hp spindle motor that produces 387 lb-ft of torque with top spindle speed of 10,000 rpm. Integrex e-1060V8 combines vertical turning with 5-axis machining. It operates at 600 rpm, and table has 0.0001° indexing increment.
---
Original Press Release:

Mazak's FH-8800 HMC, Integrex e-1060V8 and the Palletech System: Heavy-Duty, High-Speed Multitasking Machining Meets High Effciency


(FLORENCE, KY) - Mazak Corporation, the leader in integrated palletized manufacturing cell technology, now offers a Palletech® Manufacturing Cell that integrates its FH-8800 Horizontal Machining Center (HMC) with its Integrex e-1060V8-two different machines with different strengths sharing a single 31.5" pallet that can be serviced by just one shuttle. This Palletech System's FMS (Flexible Manufacturing System) CPU also allows up to eight machines of more than one type to be used in the same cell, creating previously unattainable flexibility and efficiencies.

The FH-8800 Horizontal Machining Center (HMC) offers precision with speed for heavy-duty machining tasks. It features a powerful 50-HP spindle motor that produces 387 ft.lbs. of torque with top spindle speed of 10,000 RPM (a high-torque 40-HP spindle with 7,004) RPM and 857 ft.lbs. of torque is also available). The Integrex e-1060V8 combines vertical turning with 5-axis machining for large parts, allowing machining operations to be combined in a single setup. When these two machines are combined in a single Palletech system, the result is powerful machining capacity with an exceptionally space-efficient production system.

Mazak's advanced FH-8800 horizontal machining center has a 31.5" square pallet and #50 taper spindle for high-volume or short-run production. Coolant maintains a constant temperature around the spindle and through each axis ball screw. During rapid feed, rapid acceleration and prolonged operation, a ball screw undergoes thermal expansion, with a detrimental effect on machining accuracy. In the FH-8800, passing coolant through the core of the ball screw and around the spindle prevents thermal displacement of the ball screw, allows high-accuracy machining over extended machine operation.

The unique, integral spindle design allows for productive machining of both ferrous and non-ferrous metals with excellent torque capability and a wide range of horsepower. Greater torque capacity allows larger diameter tap sizes to be used, while high horsepower allows more material removal rates at lower RPMs when using large diameter face mills. A 10,000 RPM general purpose spindle is suitable for steel and high-speed aluminum machining. The 7,000 RPM heavy duty spindle is suitable for unsurpassed heavy-duty steel cutting. (An optional 15,000 RPM spindle is also available.)

Mazak has designed the FH-8800 to be the most advanced 50 taper machine in the industry. It features the fastest and most productive automatic tool changer possible which changes tools in just 1.8 seconds. Chip to chip time is only 5 seconds. The tool changer holds 40 tools (80 and 120 optional).

The machine can accommodate extra large tools -- as large as 19.7" long and 5.3" in diameter (maximum weight of 66 lbs.). The machine also has a generous two pallet system with pallets that are 31.5" x 31.5" which allows a large number of workpieces to be mounted to the fixture to produce more work per pallet. The pallets have a load capacity of 4,840 lbs. and take only 3.0 seconds to complete 90° indexing

The FH-8800 has a rapid traverse rate and maximum feedrate of 1,575 IPM, with axis strokes of X=51.2", Y=43.3" and Z=39.4". Across-the-guide dimensions for the X-, Y- and Z-axes are bigger than competitive machines and provide less vibration, greater dampening and stability.

The fast and powerful FH-8800 does not compromise accuracy. Factors for high accuracy include design elements that control heat and the actual mechanical design of the machine, such as a 50% increase in rigidity in the column and table. The increased rigidity permits taller workpieces to be machined and more parts to be fixtured higher on tombstones. This increases part capacity and machining accuracy, as well as eliminating any unwanted fixture deflection.

Integrex Combines Turning and 5-Axis Machining

The Integrex e-1060V8's 50 HP turning table will accept a 31.5" diameter or 31.5" square pallet. Operating at 600 RPM, the table has a very precise 0.0001° indexing increment. Maximum part machining diameter is 47.2", with maximum dimensions 59" in diameter by 56.9" high. Maximum swing is 59". An optional two-pallet changer and expansion to Palletech Manufacturing Cells make the Integrex e-1060V8 an efficient production machine, especially for large workpieces.

The 50 HP, 10,000 RPM milling spindle with 339 ft.lbs. of torque and with B-axis drive makes the Integrex e-1060V8 a high-powered machining center with powerful turning capabilities. To support the high-powered cutting, the spindle tool shank is BT-50. The B-axis movement has 150° (-30° to +120°) angular displacement, allowing the machining of a multitude of surfaces.

The large axis strokes of X = 60", Y = 41.7" and Z = 52.9" provides for the large envelope and tool clearances. Machining times are very quick with X, Y, & Z rapid traverse rates of 1,575 IPM.

The Integrex e-1060V8 has a tool change time of 1.8 seconds. The standard tool magazine holds 40 tools with 80 and 120 tool magazines available.

The Integrex e-1060V8 has the new Mazatrol Fusion 640M Pro CNC system as standard equipment. With the conversational Mazatrol programming system, all of the complex programming of milling, drilling and tapping are now programmed in the same manner as a machining center.

The main feature of the Integrex e-650H is the introduction of the e-Tower. The unique e-Tower provides machine operating status and job status monitoring accessible in or out of the office. Two monitoring cameras installed on the machine send images to the e-Tower PC and/or office PC. A third camera is installed at the e-Tower for face-to-face communication or showing other views of the machine when communicating with the office or with service personnel. E-mail communication through a cell phone link between the machine and off-site personnel allows instant notification of production status or machine alarm occurrence.

Mazak is a world leader in machine tool technology. From advanced multitasking machine tools, vertical and horizontal machining centers and turning centers to fully automated Palletech Manufacturing Cells, Mazak stresses its engineering developments to provide our customers tangible value-added benefits and the most productive machine tools available. Application assistance from ten regional Mazak Tech Centers is always available. For more information, contact the Mazak Corporation at (859) 342-1700 or visit the Mazak website at www.mazakusa.com.

More from Electronic Components & Devices