Hitch Fence Line Mower features tractor-mounted design.
Press Release Summary: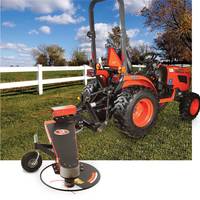 Suitable for tractor owners, DR 3-Point Hitch Fence Line Mower has spring-loaded mowing arm that automatically deflects around fence posts, mail boxes, and other obstacles. Machine gets up close to nearly any surface, allowing user to trim fence lines while riding on tractor. It also features pivoting deck allowing unit to trim around ponds and along roadside ditches.
---
Original Press Release:
DR® Power Equipment Introduces 3-Point Hitch Fence Line Mower
VERGENNES, Vt. – DR® Power Equipment is the company that transformed property maintenance in the mid-1980's with the first-ever string trimmer on wheels.  Ever since then, the DR Trimmer Mower has been saving homeowners from the backbreaking work of trimming weeds and grass with a hand-held trimmer.  This year, the company has made property maintenance even easier with a new addition to their extensive Trimmer line: the DR 3-Point Hitch Fence Line Mower for tractor owners. 

The company had heard from customers that the original Trimmer Mower was great for small to medium areas of tough grasses and weeds, but that long fence lines required a lot of "on your feet" time.  The tractor-mounted DR 3-point hitch Fence Line Mower was designed to meet this need, making trimming long fence lines as easy as a tractor ride.

The DR 3-Point Hitch Mower features a spring-loaded mowing arm that automatically deflects around fence posts, mail boxes, and other obstacles, allowing the machine to trim right up close to just about anything.  The pivoting deck allows it to trim around ponds and along roadside ditches as well - anywhere that is tractor accessible.

Joe Perrotto, CEO of DR Power Equipment's parent company, Country Home Products, says of the DR 3-Point Hitch Fence Line Trimmer, "We are really excited to be able to offer this new Trimmer Mower to our customers with tractors and large properties.  The walk-behind Trimmers are fantastic for most homeowners - and a big step up from hand-held ones - but with the PTO model, we can reach a whole new segment of customers who need an even easier way to do clean up long fences and roadsides."

For more information and photos, visit the product information page: http://www.drpower.com/prdSell.aspx?Name=FT1-3PT-Fence-Line-Trimmer

DR® Power Equipment, a division of Country Home Products, Inc., the premier developer and marketer of professional-grade outdoor equipment for residential use, was founded in 1985 in Charlotte, Vermont.  Today it occupies three facilities and employs 220 people. For more information, visit the web site at www.drpower.com.

DR® Power Equipment sells products factory-direct and through a network of over 500 dealers; a free catalog can be ordered at 802-877-1200, or obtained online at www.drpower.com.

Contact:
Julia Gilbert
JGilbert@drpower.com
802-877-1201 ext 1118

SOURCE 
DR Power Equipment

Web Site: http://www.drpower.com/
 
More from Mechanical Power Transmission