Hitachi SLD-i Cold Word Premium Tool Steel Now Available Through Diehl Tool Steel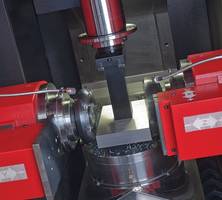 CINCINNATI, OH (February 24, 2017) – Diehl Tool Steel is now offering Hitachi Metals America's SLD-i cold work premium tool steel, an advanced tool steel grade used in various blanking and forming application where AHSS parts are processed. It is produced using the same heat treatment as D2 but exhibits better wear and toughness when used for forming and trim sections. It also shows better wear than 8% Cr steels for specific draw sections of large automotive dies.
Because of the unique manufacturing process, Hitachi SLD-i also minimizes heat treat deformation, thereby lowering tooling costs. Further comparison between Hitachi SLD-i and D2 reveals that Hitachi SLD-i requires less machining after heat treatment and a decreased amount of shape adjustment than D2. In specific application areas, customers have experienced a dramatic improvement over conventionally applied D2.
SLD-i is now available in flat cross-sections up to 5 inches thick and provides an effective combination of wear resistance and toughness, tool performance and price. Diehl can machine Hitachi SLD-i tool steel to toolmaker tolerances using its Accu-Square™ process.
About Diehl Tool Steel
Diehl Tool Steel, a wholly owned subsidiary of Hitachi Metals America, LLC, is an international supplier of quality tool steel, alloy steel, CPM® powder metal, mold steel, carbon steel, stainless steel and aluminum products and services. The company offers standard and custom cut and machined sizes of flats, bars, squares, sheets, plates, drill rod, hollow bar and rounds. With its unique Accu-Square™ process, the company can square metal block to toolmaker tolerances. Diehl Tool Steel focuses on serving the rapid turn-around needs of the tool and die, mold shop, machine shop, and O.E.M. industries, typically shipping in-stock items in 24 to 48 hours.
Diehl Tool Steel
800 Ross Avenue
Cincinnati, OH 45217
Phone: (513) 242-8900
Fax: (513) 242-8988
Contacts:
James Brackman
Vice President Marketing
Diehl Tool Steel
(513) 242-8900
More from Agricultural & Farming Products