Hitachi Introduces the Next Compact Pro Series Tools Including an Impact Driver and a Combo Kit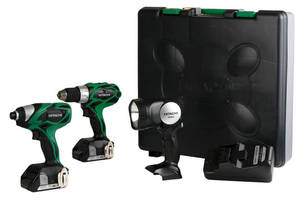 NORCROSS, GA. - Hitachi Power Tools today announced the newest additions to its 18-Volt Lithium Ion Compact Pro cordless line, the WH18DSAL Impact Driver & KC18DHL 3- Piece Combo Kit. Hitachi announced the first tool in this series, the DS18DSAL Driver Drill in November of last year which comprises one of the three tools in the combo kit (along with the Impact driver and flashlight, UB18DAL). These impressive Compact Pro tools are powered by long-lasting 1.5Ah Lithium Ion slide batteries that deliver professional power in the most compact, lightweight, and ergonomically designed tool bodies on the market. They are covered by Hitachi's 10-Year Lithium Ion Tool warranty and 2-Year Lithium Ion battery warranty for even more value and peace of mind.

Tools in this series feature responsive variable speed triggers to always reach the right speed and power for the job. Designed without the vertical cell chamber of a post-style battery, the new slide battery glides easily into place and allows the Compact Pro tools to have the most ergonomically shaped handles yet. At half the weight of NiCd or NiMH batteries, these batteries combined with the balanced tool bodies minimize user fatigue and maximize control and accuracy.

As with all of Hitachi's Lithium Ion technologies, the Lithium Ion slide-type batteries receive a steady stream of power for the duration of every battery charge, from the moment the trigger is pulled until the charge cycle is exhausted. And with up to three times the number of charge cycles of traditional batteries and accompanied by a patented battery charger with unique circuitry to prevent overheating or power loss, costly battery replacements are avoided. Metal belt hooks keep the tools conveniently in reach at all times and LED job lights illuminate the work surface for accurate bit alignment in dim environments.

The WH18DSAL 18V Lithium Ion Compact Pro Impact Driver is compact at less than 7" in length and lightweight at 3.3 lbs. With unmatched turning torque in its class- 1,280 in/lbs, the WH18DSAL tackles heavy applications like tightening and loosening carriage bolts, driving lags and sinking deck screws. Additionally it can drill into wood, metal and concrete. The WH18DSAL delivers a no-load speed from 0 to 2,600RPM and an impact rate of anywhere from 0-3,200 BPM. The 1⁄4" hex chuck saves time as bits can be changed quickly and easily by simply grabbing, pulling, inserting, and releasing the chuck. Bits are secure and won't slip or fall out.

Contact: Abby Levy

770.925.1774 ext 258

abbyl@hitachi-powertools.com

April 30, 2009

Hitachi Power Tools USA

1 800 829 4752

www.hitachipowertools.com

It is balanced for proper wrist alignment which reduces fatigue during continuous operation. This Compact Pro Impact Driver comes complete with two 18V 1.5Ah Lithium Ion slide batteries, a 40-minute quick charger and a Phillips driver bit- all packaged in a durable carrying case.

The KC18DHL 18V Compact Pro 3-Piece Combo Kit combines the DS18DSAL 18V Lithium Ion Compact Pro Driver Drill (released in November 2008) and the WH18DSAL 18V Lithium Ion Compact Pro Impact Driver described above along with the convenient UB18DAL 18V Lithium Ion Compact Pro Flashlight for a complete Compact Pro cordless solution conveniently packaged together. Hitachi's UB18DAL Lithium Ion flashlight conveniently adjusts to five lighting positions so that light can be aimed accurately and stands alone while you work. A shoulder carrying strap and battery indicator light are useful features also included in the UB18DAL.

Because it runs on the same 18-volt slide batteries as the driver drill and impact driver, the flashlight shares the same Lithium Ion benefits of long battery life, lasting power per charge and lightweight convenience.

This Compact Pro Combo Kit comes complete with two 18V 1.5Ah Lithium Ion slide batteries, a 40-minute quick charger and a Phillips head double sided driver bit- all packaged in a durable carrying case.

For more information, including the full line of Hitachi products and support, please visit www.hitachipowertools.com or contact Hitachi Power Tools at 1-800-829-4752.

HITACHI POWER TOOLS U.S.A.

Hitachi Power Tools (Hitachi Koki USA, Ltd) offers an extensive line of professional grade power tools and accessories for woodworking, metalworking, drilling and fastening, concrete drilling and cutting as well as a complete line of pneumatic nailers, staplers, compressors and collated fasteners. From headquarters in Atlanta, GA, and satellite offices in the United States and Canada, Hitachi Power Tools supports nearly 2000 retail locations carrying Hitachi tools and over 1000 authorized service centers.

Hitachi Koki USA, Ltd. is the North American division of Hitachi Koki Japan, a subsidiary within the over $112 billion, 390,000 employee Hitachi Ltd of Japan. Using world class standards of development and production with a priority of social and environmental sustainability, Hitachi produces countless products and services. From home electronics to social infrastructure, materials, logistics, and services, Hitachi can be found throughout the world breathing life into the next era.

More from Agricultural & Farming Products