Historic Preservation 'Rocks' in the 'Cradle of Liberty'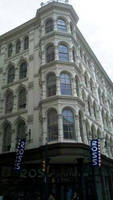 In The Death and Life of Great American Cities, author Jane Jacobs observed, "Cities need old buildings so badly it is probably impossible for vigorous streets and districts to grow without them. By old buildings I mean not museum-piece old buildings, not old buildings in an excellent and expensive state of rehabilitation - although these make fine ingredients - but also a good lot of plain, ordinary, low-value old buildings."

In this excerpt, Jacobs could have been describing Philadelphia, where preserving older buildings has been part of the city's DNA since 1816 when citizenry opposed razing the Old State House, which later became Independence Hall. In describing that successful preservation effort, the Trust for Architectural Easements observed, "Thanks to the foresight of Philadelphians, the site existed long enough to become Independence National Historical Park in 1951 and a United Nations Educational Scientific and Cultural Organizations (NESCO) World Heritage Site in 1979." Today, Independence National Historical Park is home to the Liberty Bell, which is the nation's symbol of freedom and source of Philadelphia's nickname as the "Cradle of Liberty."

Early preservation efforts in the city were led by the AIA Philadelphia Historic Preservation Committee, which in 1898 created the Committee for the Preservation of Historic Monuments. In the 1920s, the Preservation Committee identified more than 100 historic buildings, which were eventually included in the city's register of historic buildings. Today, the AIA Philadelphia Historic Preservation Committee continues to be active in monitoring the city's endangered landmarks.

Over the years, Philadelphians have participated in grassroots campaigns to prevent the demolition of older buildings such as the Lit Brothers' department store with its Victorian façade dating back to 1907. "In its heyday, Lit Brothers was a classic block-long Philadelphia department store with fiercely loyal customers," a The New York Times article reported. "Some women would buy their hats only at Lit's because of the store's wide selection and free hat trimming service. Families made annual pilgrimages to see the store's Christmas display."

"The cream-colored facade, with its rows of arched Italianate windows, survived a decade-long battle between preservationists and developers," the Times article stated. "But after Lit's closed its doors in 1977, the store decayed and city officials considered it a fire hazard and began making plans to raze it to make room for a parking lot."

The Times credited a 52-year-old former National Park Service ranger with spearheading a grass roots campaign that drew more than 800 people to a 1981 rally to save the Victorian style department store. Following an extensive renovation, the building was converted into retail space on its lower levels and a banking operations center on its upper floors.

The $90-million renovation project specified a Tnemec coating system on the building's exterior envelope. Following surface preparation, a tie-coat of Series 151-1051 Elasto-Grip, a penetrating, modified polyamine epoxy for sealing cementitious and other porous substrates, was brush- and roller-applied. The exterior also received two finish coats of Series 156 Enviro-Crete, a modified waterborne acrylate capable of bridging minor hairline cracks.

"The main focus was on protecting the concrete surface," Tnemec coating consultant Ed Enoch of Del-Val Coatings explained. "The elastomeric coating system that was specified provided the aesthetics the owner required, along with protection against driving rain, alternating freeze-thaw cycles and ultraviolet (UV) light."

Sections of the department store constructed with a cast iron façade were prepared by power-washing and hand tool cleaning and coated with Series 27 F.C. Typoxy, a polyamide epoxy widely used as a field tie-coat for steel fabrication. A finish coat of Series 73 Endura-Shield, an aliphatic acrylic polyurethane, provided resistant to abrasion, wet conditions, corrosive fumes, chemical contact and exterior weathering.

"The Lit Brothers building is a Philadelphia landmark, so aesthetics and long-lasting performance were very important considerations," Enoch added. "Long service life is critical for projects like this. Scaffolding and containment can be very expensive, especially in the middle of the city where you have people walking within 10 feet of the building."

In its report titled The Economic Impact of Historic Preservation in Philadelphia, The Preservation Alliance for Greater Philadelphia estimated that more than $4.5 billion was spent on historic preservation efforts during the 10-year period between 1998 and 2008. "Construction and other jobs are created by rehabilitation, since this work tends to be quite labor-intensive," the report explained. "The City of Philadelphia is also an archetypal example of what has come to be known as 'heritage tourism,' and thus historic preservation translates into a more robust tourism industry, not to mention an attractive backdrop for filming movies and television shows."

In its ongoing efforts to persuade developers to redevelop older buildings, The Preservation Alliance has expanded its website to include a list of distinctive properties in need of "preservation-minded new owners." In addition, the Alliance is involved with the Old House Fair, homeowner workshops and grants to low- and moderate‐income homeowners that offer encouragement and resources for maintaining individual historic properties.

"To the extent that historic preservation is considered a public function, it can and does yield public benefits, such as stewardship of cherished cultural resources, preservation of the urban form, and environmental sustainability," The Economic Impact of Historic Preservation in Philadelphia affirmed. "Historic preservation is a way to earn a return in the present on events and structures from the past."


More from Agricultural & Farming Products