Hilti HIT-HY 150 MAX Fast Cure Adhesive System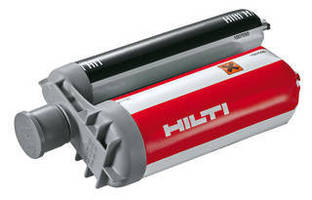 TULSA, Okla. -- November 21, 2008. The Hilti HIT-HY 150 MAX Fast Cure Adhesive Anchor System leads the industry by being the first fast cure adhesive anchor to receive an ICC-ES Report compliant with Acceptance Criteria AC308, offering designers strength design solutions for anchors and rebar.

The fast cure time and easy installation of the HIT-HY 150 MAX greatly increase productivity for anchor and rebar applications in un-cracked concrete since anchors are ready for inspection and testing in as little as 30 minutes at 68°F. The HIT-HY 150 MAX also provides reliable fastening where in-service base material temperatures reach 248°F.

HIT HY-150 MAX comes in 11.1 fl oz, 16.9 fl oz or 47.3 fl oz tubes. The Hilti ED 3500 Battery Dispenser offers powerful and effortless mortar injection. This powerful tool provides the pressure of a pneumatic system without the need for a heavy compressor. Compatible with all Hilti HIT foil packs in 11.1-ounce (330ml) and 16.9-ounce (500 ml) sizes, the ED 3500 can be used even at low temperatures. It is ideal for work in deep holes, difficult-to-reach locations and highly repetitive applications. Compatible with existing Hilti batteries and chargers, the ED 3500 also features an ergonomic design for added user comfort

For more information on the HIT HY 150 MAX or other Hilti anchoring systems, please contact Hilti Customer Service. From the U.S., call Hilti, Inc. at 1-800-879-8000; from Canada, call Hilti (Canada) Corporation at 1-800-363-4458. Additional information can also be found online at www.us.hilti.com or www.ca.hilti.com.

About Hilti, Inc.:
Hilti is a world-leading manufacturer and supplier of quality, innovative and specialized tools and fastening systems for the professional user. With more than 1,583 highly trained Hilti account managers and engineers throughout North America and an additional 1,386 Hilti employees nationwide, Hilti expertise covers the areas of powder-actuated fastening, drilling and demolition, diamond coring and cutting, measuring, firestopping, screw fastening, adhesive and mechanical anchoring, and strut and hanger systems.

More from Materials