Highly Precise and Fast Inspection of Solder and Sinter Pastes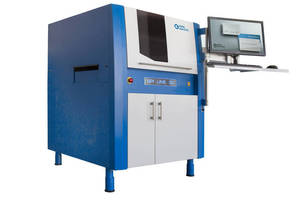 At the SMT/Hybrid/Packaging show in Nuremberg GOEPEL electronics will present a new generation solder paste inspection system. The SPI-Line 3D allows solder pastes and sinter pastes with a height of less than 50 µm to be measured precisely and quickly. The newly developed measuring head, with double-sided projection within the device, provides the maximum degree of repeatability and reliability through its shadow-free inspection.



The speed-optimized camera head keeps pace with the high production throughput without any loss of precision: 180 pictures per second up to 290 cm²/s means uncompromisingly high-speed solder paste inspections. The SPI-Pilot system software gives the user the easiest and most intuitive test program creation experience. It can be operated via a touchscreen and enables programming to be done in less than 10 minutes. The new SPI-Line 3D has also been fundamentally modified mechanically: The 3D measuring head moves through wear-free linear axes with the highest dynamics.



The SPI-Line 3D has recently added the single networking system for all inspection data from AOI, SPI and AXI by linking through PILOT Connect. This common interface centrally records and manages the machine and operating data from the linked systems. All test information can be then be brought together at one verification and repair station, where secure error evaluation and brand new possibilities for optimizing the production process can be established.



About GOEPEL electronics:

GOEPEL electronics is a technologically leading vendor of professional Automated Optical Inspection systems (AOI) and Automated X-ray Inspection Systems (AXI). A network of branch offices in the UK, China, India and the USA, international distributors and service partners ensures the global availability of the products as well as the on-site support to several hundred system installations. Founded in 1991 and headquartered in Jena, Germany, GOEPEL electronic has currently more than 215 employees and generated revenue of 30 million Euro in 2014 (approx. $32 million). GOEPEL electronic has continuously been ISO9001 certified since 1996 and has been honoured with TOP-JOB and TOP-100 awards for being one of the best medium-sized companies in Germany. GOEPEL electronics' industry award winning products are relied on by the leading companies in telecommunication, automotive, space and avionics, industrial controls, medical technology, and other industries. Further information about the company and its products can be found on the internet at www.goepel.com.



More from Sensors, Monitors & Transducers