Higher-Wattage Fuse allows safe charging of smartphones, tablets.
Press Release Summary: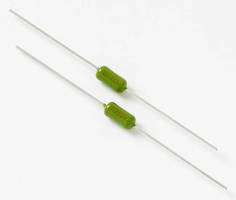 Designed to protect higher-wattage (10–15 W) wall-mount chargers for battery-powered electronic equipment axial lead, 3.6 x 9 mm 777 Series incorporates filler material that provides finely tuned balance between surge tolerance necessary to prevent nuisance fuse tripping with fuse's ability to open safely when short-circuit occurs. Fuse withstands up to 24 hits of 7.5 kV ringwave surge and will open safely on direct short condition without producing soot, sparks, and sounds.
---
Original Press Release:

Compact Fuse from Littelfuse Allows Faster, Safer, Higher-Wattage Charging of Today's Smartphones and Tablets



Combines superior surge tolerance with safe opening in short-circuit conditions



CHICAGO — Littelfuse, Inc., the global leader in circuit protection, has introduced the compact 777 Series Fuse to provide protection for higher-wattage wall-mount chargers for battery-powered electronic equipment. Although chargers for earlier generations of mobile phones had relatively low wattage (typically about 5W), today's highly compact chargers must often be able to handle 10-15W of power, which requires withstanding higher levels of current. The axial lead, 3.6mm x 9mm 777 Series Fuse incorporates an innovative type of filler material that provides a finely tuned balance between the surge tolerance necessary to prevent nuisance fuse tripping with the fuse's ability to open safely when a short-circuit occurs. The 777 Series' robust design lets it withstand up to 24 hits of 7.5kV ringwave surge; it will open safely on a direct short condition without producing soot, sparks, and sounds. Typical applications include wall-mount smartphone and tablet chargers and 10‑20W power supply modules for other battery-powered consumer electronics.



"From the consumer perspective, everybody wants their mobile electronic devices to recharge quickly, so they can get back to using them in the way they were intended. The 777 Series Fuse allows circuit designers to engineer fast, compact, and economical chargers that don't compromise user safety," said Daniel Wang, product manager for the 777 Series Fuse line. "Circuit designers can count on Littelfuse for robust fuse design and superior manufacturing quality."



The 777 Series Fuse offers these key benefits:

Its high interrupting rating design ensures the fuse will open safely under short-circuit conditions without producing soot, sparks, or popping noises.

The high surge withstand capability prevents nuisance tripping of the fuse caused by transient surges.

The fuse's 3.6mm x 9mm footprint conserves board space, which makes it suitable for use in compact wall-mount charger designs.

Its epoxy coating provides insulation on the vertically mounted fuse body.



Availability

The 777 Series Fuse is available in quantities of 1,000 in tape and reel packaging. Sample requests can be placed through authorized Littelfuse distributors worldwide. For a listing of Littelfuse distributors, please visit Littelfuse.com.



For More Information

Additional information is available on the 777 Series product page and data sheet. If you have technical questions, please contact: Daniel Wang, Product Manager, dwang@littelfuse.com.



About Littelfuse

Founded in 1927, Littelfuse is the world leader in circuit protection with growing global platforms in power control and sensing. The company serves global customers in the electronics, automotive and industrial markets with technologies including fuses, semiconductors, polymers, ceramics, relays and sensors. Littelfuse has over 8,000 employees in more than 35 locations throughout the Americas, Europe and Asia. For more information, please visit the Littelfuse website: littelfuse.com.



Littelfuse, Inc.

8755 West Higgins Road

Chicago, IL 60631

USA

More from Fluid & Gas Flow Equipment